Lebanese parliament failed again and for the 36th time in a row to elect a president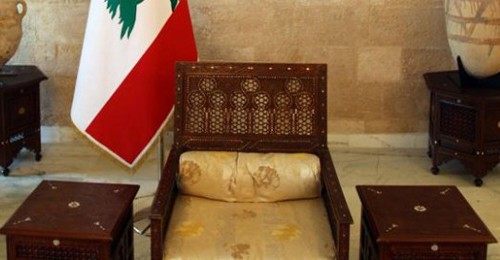 The Lebanese parliament failed again today and for the 36th time in a row to elect a president to replace MichelSuleiman whose term ended on May 25 , 2014.
As in the past sessions the parliament was unable to reach a quorum because the Iranian-backed Hezbollah militant group and its ally MP Michel Aoun's Change and Reform bloc MPs boycotted the session, because they could not guarantee Aoun's election as a president
Speaker Nabih Berri a key ally of Hezbollah postponed the election to March 23, 2016.
72 lawmakers, including former PM and Future Movement chief MP Saad Hariri participated in the session.
Following the postponement of the elections, Hariri declared: "We hope the remaining lawmakers will be present in the next session."
Eighty-six MPs are needed for quorum to be met at parliament for the election of a president.
"I urge all lawmakers to prevent the prolongation of the vacuum, which is killing the whole of Lebanon," Hariri added.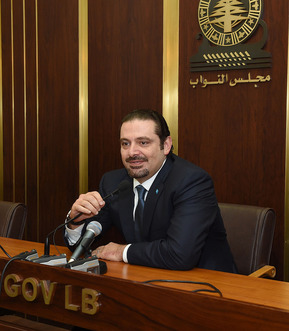 On Marada Movement leader MP Suleiman Franjieh's absence from Wednesday's electoral session, Hariri said: "I understand his absence as Lebanon's democracy has its special characteristics."
Franjieh has been endorsed by Hariri as president. He is running along with Free Patriotic Movement founder MP Michel Aoun and Progressive Socialist Party candidate MP Henri Helou.
Asked by reporters on his stance on the Gulf Cooperation Council's blacklisting of Hezbollah as a terrorist organization, Hariri replied: "The party is undertaking actions in the region that it should not be doing, which led to this designation."
"Hezbollah has long been designated as terrorist group in the Gulf and that has changed nothing in Lebanon," he said in response to whether the Future Movement will halt its dialogue with the party.
"We will hold talks with those we have differences with," he stressed.
"We will continue the dialogue because we do not want strife in Lebanon," he emphasized.
The Gulf Cooperation Council countries on Wednesday branded Hezbollah a "terrorist organization," a day after Its chief Hassan Nasrallah accused Saudi Arabia of pressuring Lebanon to silence his party.
The move by the Gulf Cooperation Council comes less than two weeks after Saudi Arabia announced it was cutting $4 billion in aid to Lebanese security forces. The kingdom and other Gulf States followed up that move by urging their citizens to leave Lebanon, dealing a blow to Lebanon's tourism industry.
The GCC includes Saudi Arabia, the United Arab Emirates, Kuwait, Qatar, Bahrain and Oman.