Jumblatt: 'Irresponsible statements' putting Lebanese expats in danger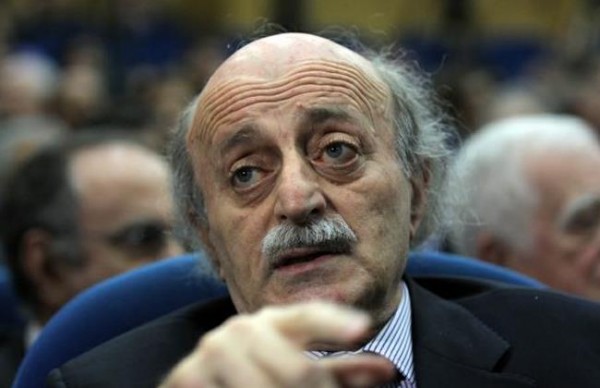 Democratic Gathering Parliamentary block leader MP Walid Jumblatt warned on Wednesday that Lebanese expatriates were in danger over what he termed as "irresponsible" remarks made by some officials.
"By irresponsible statements, (we are) endangering Lebanese abroad," the Progressive Socialist Party chief said on Twitter.
In a series of tweets in English, he called for changing such attitude "through local consensus or understanding … for the sake of the silent majority that has nothing to do with the regional conflicts."
Jumblatt hailed the attitude of Prime Minister Tammam Salam "through this terrible havoc."
On Monday, Salam said he will head a ministerial delegation to visit Gulf states in the near future after Saudi Arabia halted security assistance deals several US $ billions
Saudi Arabia decided last week to suspend a $4 billion grant to the Lebanese army and security forces and to review its diplomatic relations with Lebanon. The stance came after Lebanon's foreign ministry declined to vote in favor of Saudi-backed resolutions against Iran during two meetings of Arab and Muslim foreign ministers.
The Saudi move also followed fierce anti-Saudi statements by Hezbollah chief Hassan Nasrallah.
In a statement Monday, Salam insisted Beirut stands by Arab countries.
He said it is necessary to rectify relations between Lebanon and its "brothers," and "remove the stains" that surfaced recently.
Salam stressed that Lebanon will maintain its policy of "disassociation" from regional conflicts.
But his statement, which came after an extraordinary cabinet session that he chaired, was blasted by several officials for failing to slam Hezbollah which is fighting alongside troops loyal to Syrian President Bashar Assad.
Jumblatt wished Salam "more patience and wisdom" and urged "all parties to help him in these terrible times."
"Consider Lebanon's interests above all interests," said the PSP chief in one of the tweets.
He also wished that Lebanon's next president would be elected as soon as possible.
GCC bans travel to Lebanon
Kuwait called on its citizens in Lebanon on Wednesday to leave the country, making it the fourth Gulf country to ban travel to this country .
The Kuwaiti action comes after its allies in the Gulf Cooperation Council (GCC) Saudi Arabia, the United Arab Emirates, and Bahrain issued on Tuesday travel warnings to their citizens , citing "safety" concerns.
Lebanon's tourist industry depends heavily on the oil rich Gulf states and this ban could be a blow to the Lebanese economy according to analysts. What is worse analysts say is that the Gulf countries are no longer issuing work visas for Lebanon. This could have drastic effect on the economy since 70 % of the remittances come from expatriates living the Gulf states.