Patriarch al-Rai: Lebanon needs "real statesmen" to end the presidential vacuum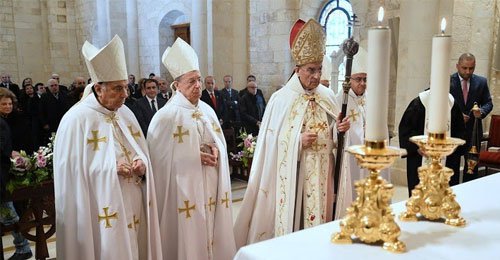 Lebanon's Maronite Patriarch Beshara al-Rai said on Tuesday during a mass in Bkirki marking the occasion of Saint Maroun that Lebanon needs "real statesmen" to end the presidential vacuum.
"We need real statesmen to be able to elect a president," The Patriarch said and urged Maronites to "build bridges rather than walls" among different factions.
Saint Maroun was a 4th-century Syriac Christian monk whose followers, after his death, founded a religious Christian movement that became known as the Maronite Church. The religious community which grew from this movement are the modern Maronites.
He gave his blessing to any initiative that removes the obstacles facing the presidential elections.
He was referring to Lebanese Forces chief Samir Geagea's endorsement of the candidacy of his long-time rival Free Patriotic Movement founder MP Michel Aoun.
Despite Geagea's backing for Aoun last month, the Lebanese parliament failed again yesterday and for the 35th time in a row to elect a president to replace Michel Suleiman whose term ended on May 25 , 2014.
As in the past sessions the parliament was unable to reach a quorum because the Iranian-backed Hezbollah militant group and its ally Aoun's Change and Reform bloc MPs boycotted the session, because they reportedly could not guarantee Aoun's election as a president
The Bkirki mass was attended by MPs Antoine Zahra of the Lebanese Forces , Gilberte Zouein o the Change Reform bloc and Marada Movement official Youssef Saadeh as representatives of Christian parties.
Following the mass the patriarch held a closed-door meeting with the 3 Christian MPs
Some observers have suggested that Geagea's move came in response to former Lebanese PM and Future Movement leader Saad Hariri's proposal to nominate Marada Movement chief MP Suleiman Franjieh for the presidency although the LF chief has denied this.
"Franjieh's withdrawal would facilitate rapprochement between Future Movement and General Aoun," Lebanese Forces MP George Adwan suggested on Sunday
There is a lot of pressure on Franjieh to withdraw his nomination But he insists he is still a candidate and has 70 votes out of the 127 ( current parliament members ).