U.N. chief tells Israel, Palestinians: 'writing is on the wall'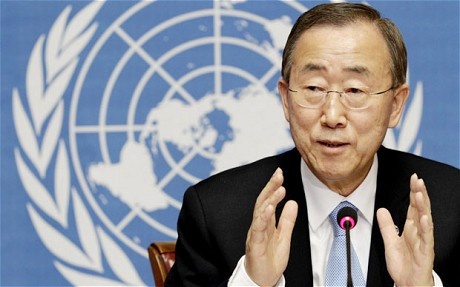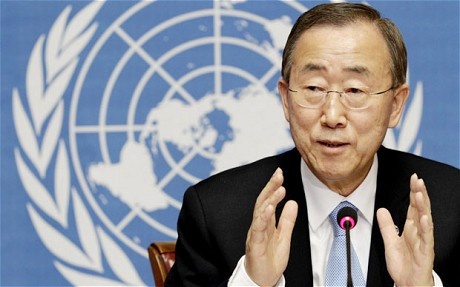 U.N. Secretary-General Ban Ki-moon is concerned a stalemate in the peace process between Israel and Palestinians is reaching the point of no return for a two-state solution.
"The time has come for Israelis, Palestinians and the international community to read the writing on the wall: The status quo is untenable," Ban wrote in an opinion piece published in the New York Times late on Sunday. "Keeping another people under indefinite occupation undermines the security and the future of both Israelis and Palestinians."
The Palestinians want an independent state in the West Bank, Gaza and East Jerusalem – areas Israel captured in a 1967 war.
Israeli Prime Minister Benjamin Netanyahu slammed Ban last week, saying he gave a "tailwind to terrorism" after the secretary-general put some of the blame on Israel for four months of stabbings and car rammings by Palestinians.
Ban, who will step down at the end of 2016 after 10 years as U.N. chief, had told the U.N. Security Council that it is "human nature to react to occupation."
"I will always stand up to those who challenge Israel's right to exist," Ban said in the Times, "just as I will always defend the right of Palestinians to have a state of their own. That is why I am so concerned that we are reaching a point of no return for the two-state solution."
The United States and the European Union – Israel's closest allies – also have had unusually stern criticism of Israel in recent weeks, reflecting their frustrations with Netanyahu's right-wing government.
"When heartfelt concerns about shortsighted or morally damaging policies emanate from so many sources, including Israel's closest friends, it cannot be sustainable to keep lashing out at every well-intentioned critic," Ban wrote.
U.S.-led efforts to broker a "two-state solution" collapsed in 2014. France said on Friday it will recognize a Palestinian state if a final push that Paris plans to lead for a two-state solution between Israel and the Palestinians fails.
"The stalemate carries grave risks for both sides: a continuation of the deadly wave of terrorism and killings; the collapse of the Palestinian Authority; greater isolation of and international pressure on Israel," Ban wrote.
He said the Palestinians must bring Gaza and the West Bank under a single democratic-governing authority and take action to stop attacks on Israel, including an immediate end to the building of Gaza tunnels into Israel.
REUTERS