Jumblatt tells Nasrallah: We don' want the Lebanese democracy to be like the Iranian one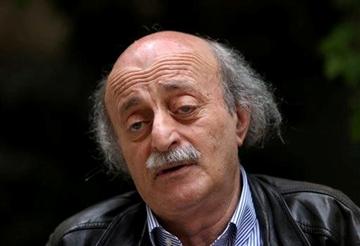 Progressive Socialist Party leader MP Walid Jumblatt ridiculed on Saturday the criticism that was indirectly addressed to him by Hezbollah chief Hassan Nasrallah over his recent "sarcastic remarks on Iran's democracy."
"Based on the several meetings I have held with him, I recall that he had a political sense of humor." Jumblatt said
In his weekly editorial in the PSP-affiliated al-Anbaa website he wrote: "I was therefore suprised at the reactions that were made over the comments I made over the Islamic Republic and its role in obstructing Lebanon's presidential elections."
"If Iran was indeed not hindering the elections, as you are claiming, then any citizen has the right to ask what are the real reasons for the lack of quorum at electoral sessions?" he asked
He noted that this question holds more significance now that both presidential candidates are members of the March 8 alliance.
Nasrallah claimed victory on Friday over the fact that MPs Michel Aoun and Suleiman Franjieh, both members of the alliance, are the 2 main candidates for the presidency.
"Wasn't it the Iranian deputy Foreign Minister Hussein Amir Abdul Lahyan that said his country would back any agreement made among the Lebanese over the elections?" Jumblatt asked.
"Perhaps the party ( Hezbollah) is seeking to follow the Iranian example and demand that the results of the elections be guaranteed in advance before ensuring quorum at the electoral session," he continued without mentioning Hezbollah by name .
"This means determining the results and later holding a symbolic and superficial vote similar to the several democratic councils in Tehran," he added.
"We raised several question marks over the indirect democracy in Iran due to its numerous Shura councils, various regime committees, and its republican guard, of course, because we do not want the Lebanese democracy, despite its weakness, to transform into the Iranian one," he noted.
Nasrallah said during a speech on Friday: "Iran has stressed that the presidential issue is a domestic affair and that it would support what the Lebanese would agree on."
"As for the issue of Iranian democracy, Iran has organized more than 35 elections in the past 37 years and the polls were never suspended, despite the wars and bombing. But we in Lebanon are searching for any excuse to postpone the elections and we don't have a constitutional authority to address the differences," Nasrallah noted.