France eyes business deals amid protests as Iran's Rouhani visits
France and Iran hailed the sale of dozens of Airbus planes, the renewal of a decades-old carmaking venture and an export credit deal as symbols of thawing relations on Thursday as protesters sought to get human rights onto the agenda.
The agreements, most of them not yet finalised, were announced during a trip to Paris by Iranian President Hassan Rouhani and a host of his ministers and business leaders.
His visit after a stop-off in Rome for more deals follows an agreement between Iran and the west on the Middle-Eastern country's nuclear program, and the resultant lifting of western sanctions this month. He was due to meet his French counterpart Francois Hollande later on Thursday.
Four business arrangements were flagged by France's main industry body Medef, including a joint venture between PSA Peugeot Citroen (PEUP.PA) and Iran Khodro, and plans for Iran to buy over 100 Airbus (AIR.PA) passenger planes to update its aging fleet.
Agreements in the areas of health, agriculture and the environment are due later in the day.
The deals come despite continued diplomatic tension — France was one of Iran's fiercest critics during the sanctions-lifting talks.
DEALS UNFINISHED, BANKS WARY
Exactly what stage the Airbus deal was at remained unclear on Thursday, however, amid scepticism over how far and how fast western firms can get into Iran.
French officials said Iran was putting the finishing touches to the Airbus deal, and Iran earlier this week gave estimates of up to 127 Airbus planes, but Iranian Transport Minister Abbas Akhoundi declined to give further details and sources close to the discussions said technical talks were continuing.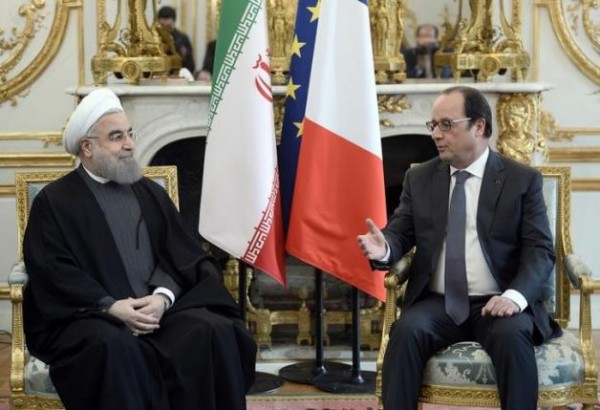 Banks also remain wary so soon after the lifting of sanctions, senior French bankers have said.
France's biggest lender BNP Paribas (BNPP.PA) was fined $8.9 billion in the United States last year for past sanctions-busting against countries including Iran.
Iran's industry minister Mohammad Reza Nematzadeh said an agreement between French export-credit group Coface (COFA.PA) and the Iranian central bank signed this week was an important step in the right direction.
But he said French banks must step up and support a corporate push into post-sanctions Iran.
"If not, if they don't get active, there will be no increase in business," he warned.
Among other deals flagged on Thursday were one involving French national railway operator SNCF and another for aluminum company Fives.
For Peugeot, the Iranian factory tie up is critical. When it suspended sales in Iran in 2012 it lost nearly 10 percent of global deliveries and interrupted a relationship with the country that dates back more than 50 years.
Under Thursday's deal, set to be finalised in the middle of this year, Peugeot and Iran Khodro plan to modernize a factory near Tehran and be producing cars by mid 2017.
They target an initial 200,000 vehicles a year making Peugeot 208, 2008 and 301 models with a Peugeot investment of 400 million euros ($436 million) over five years.
Hollande and Rouhani both have human rights cases to answer, Human Rights Watch said in a statement.
Issues for Iran include the death penalty and the abuse of rights of women and minorities, while the state of emergency declared by Hollande after Islamist militant attacks in Paris on Nov. 13 last year threaten rights to liberty and freedom of movement in France, it said.
Ahead of a bigger protest due to take place later on Thursday, a protestor from the Femen womens' activist group dangled in a mock hanging from a bridge near the Eiffel Tower with an Iranian flag painted across her naked chest.
Rouhani paid homage to the long-standing relationship between the two countries by acknowledging the presence of Valery Giscard d'Estaing at one of his speaking venues.
The 89-year-old was president of France during the Islamic revolution of 1979 while Ayatollah Khomeini, who went on to lead the country, lived in exile in France.
"That was when we started to hear the sound of the revolution which started in France and spread around the world," Rouhani said.