U.N. chief slams Israeli settlements as 'provocative acts'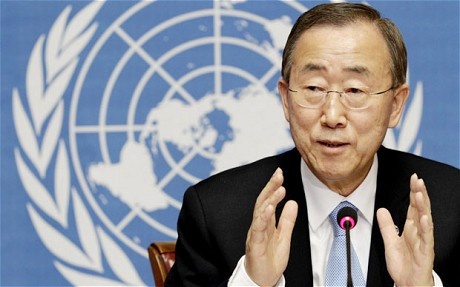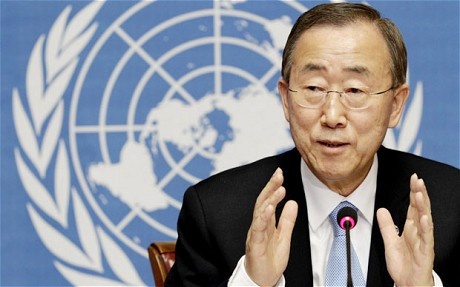 U.N. Secretary-General Ban Ki-moon on Tuesday slammed Israel's settlement activities as "provocative acts" that raise questions about its commitment to a two-state solution amid growing Palestinian frustration over nearly 50 years of occupation.
The Palestinians want an independent state in the West Bank, Gaza and East Jerusalem, areas Israel captured in a 1967 war. The last round of peace talks broke down in April 2014 and Israeli-Palestinian violence has surged in recent months.
Israel confirmed on Thursday that it would appropriate a large tract of fertile land in the occupied West Bank, close to Jordan, an area where Israel already has many settlement farms built on land Palestinians seek for a state.
Ban also said he was "deeply troubled" by reports that the Israeli government had approved plans for more than 150 new homes in "illegal settlements in the occupied West Bank."
"These provocative acts are bound to increase the growth of settler populations, further heighten tensions and undermine any prospects for a political road ahead," Ban told a United Nations Security Council meeting on the Middle East.
"Continued settlement activities are an affront to the Palestinian people and to the international community. They rightly raise fundamental questions about Israel's commitment to a two-state solution," he said.
He said frustration was growing among Palestinians.
U.S. Ambassador to the United Nations, Samantha Power, said Washington strongly opposes settlement activity.
"Steps aimed at advancing the Israeli settlement program … are fundamentally incompatible with the two-state solution and raise legitimate questions about Israel's long-term intentions," Power told the council.
There are now about 550,000 Jewish settlers living in the West Bank and East Jerusalem combined, according to Israeli government and think-tank statistics. About 350,000 Palestinians live in East Jerusalem and 2.7 million in West Bank.
The chief Palestinian delegate at the United Nations, Riyad Mansour called on the Security Council take action against Israeli settlements.
"It must involve measures by all states and go beyond not rendering aid or assistance to holding Israel accountable for its actions," Mansour told the council.
Israel's U.N. envoy Danny Danon accused the Security Council of being "hypocritical" because it had condemned "terrorist attacks" carried out elsewhere in the world but not in Israel. He did not talk about Israeli settlements.
"The road to peace is long and difficult but Israel is committed to make every effort," Danon told the council.
REUTERS