Hezbollah continues to back Aoun for presidency , FPM claims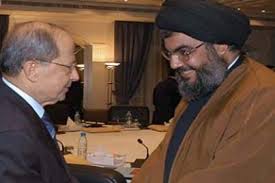 The leading An Nahar daily reported on Tuesday that  a Hezbollah delegation led by senior security official Wafiq Safa visited the founder of the Free Patriotic Movement MP Michel Aoun and reiterated the party's adamant stance in backing him for the top state post despite  the presence of other March 8 competitors in the presidential race, .
An Nahar said that Safa has restated "the party's unwavering backing for Aoun even if the Marada chief MP Suleiman Franjieh remained a candidate."
Aoun, a March 8 nominee, has been lately endorsed  by his long time rival from March 14 camp Lebanese Forces chief Samir Geagea .
Geagea's  move was seen by observers as a reaction to the nomination of Franjieh by former PM  Saad Hariri late last year.
The Hezbollah delegation visited   Aoun 48 hours following the Maarab rapprochement and assured him that  "any parliamentary sessions that convenes with quorum will end up electing him even if Hezbollah  prefers not to take part in a session where the two candidates for the post are from the March 8."
But An Nahar also quoted sources of the FPM, MPs of the Change and Reform bloc and allies as saying they  "will not participate in a parliament session that does not guarantee to get Aoun to the post," and that this stance "has been coordinated with Hezbollah following the Maarab rapprochement."
"Hezbollah's positions has not changed on nominating Aoun. It is useless to wait for a statement from Hezbollah  declaring otherwise. The words of Hezbollah leader Sayyed Hassan Nasrallah were clear in that regard and he has reiterated more than once that the party's candidate is Aoun." The sources were quoted as telling An Nahar
The 35th parliament session has been scheduled on February 8 to elect a successor to former  President Michel Suleiman  whose term ended in May 2014  .
According to an  analyst" if Hezbollah  really wanted Aoun they will go to the parliament and vote  for him , specially since LF endorsed him  and  Franjieh  declared that he will initially back  him despite the fact that he is also a candidate ."
The analyst concluded that"  Geagea's  smart move exposed   Hezbollah's real position with regards to Aoun and the presidency. Hezbollah wants   nobody as a president in Lebanon "