Jumblatt hails LF-FPM rapprochement, but is sticking with Helou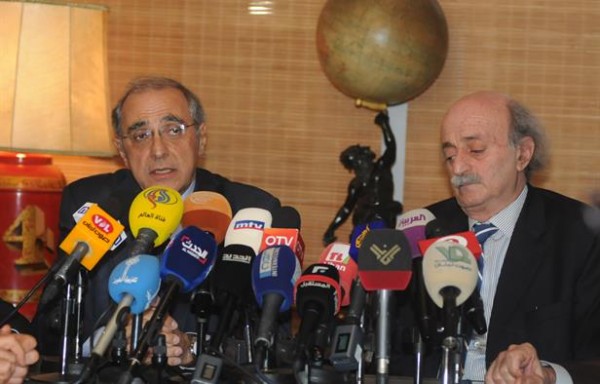 The Democratic Gathering parliamentary bloc which is headed by MP Walid Jumblatt welcomed on Thursday the rapprochement between the Lebanese Forces and the Free Patriotic Movement but stressed that it is sticking with the candidacy of MP Henri Helou for the country's top post.
Following a meeting that was chaired by Jumblatt the bloc said in a statement that "Christian-Christian reconciliation is an important step in consolidating national understanding."
"LF chief Samir Geagea's support for FPM founder Michel Aoun's candidacy encourages 'national unity,' "said the statement.
But the bloc reiterated that Helou, who represents moderation, remains its candidate.
It said Marada leader MP Suleiman Franjieh's candidacy helped in resolving the presidential deadlock, adding that Aoun's candidacy meets the characteristics that the participants of the national dialogue held under Speaker Nabih Berri have agreed to.
"These characteristics don't abolish the role of moderates in Lebanese political life," the Democratic Gathering stated.
The bloc welcomed any step that is meant to encourage dialogue on the presidential crisis that erupted when the term of Michel Suleiman ended in May 2014.
It added that the election of a new head of state would regulate the work of constitutional institutions and help resolve economic and social issues.
Geagea hails Jumblatt's stance
Lebanese Forces leader Samir Geagea praised on Thursday the Democratic Gathering for its position on Monday's Maarab meeting Central News Agency reported
Geagea added: "I hope all political blocs will take the necessary measures to stage the presidential elections as soon as possible.
Democratic Gathering chief MP Walid Jumblatt has always respected the National Pact and coexistence in Lebanon, Geagea continued.
"This was most evident during the famous Mount Lebanon reconciliation" in 2001, he remarked.
"We were therefore not surprised with the Democratic Gathering and Progressive Socialist Party's stand on the Maarab meeting," Geagea concluded