After Geagea's endorsement can Aoun now beat Franjieh in a 2-man presidential race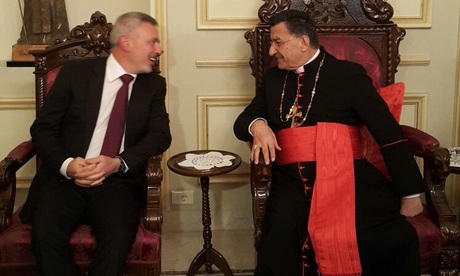 Marada Movement leader Suleiman Franjieh held talks on Monday night with Maronite Patriarch Beshara al-Rai , hours after Lebanese Forces chief Samir Geagea nominated his rival Change and Reform bloc leader MP Michel Aoun as president.
Franjieh tweeted after the talks in Bkirki: "I am still going ahead with my candidacy for the presidency."
Franjieh's nomination was part of a proposal launched in late 2015 by former PM and Future Movement leader MP Saad Hariri.
Geagea, who was the presidential candidate of the March 14 camp nominated his rival Aoun for the country's top post earlier on Monday .
His action was seen as a reaction to Hariri's nomination of the Marada leader.
"I declare, after thorough assessment among the LF, the nomination of MP Michel Aoun as president." Geagea said and called on his allies in March 14 to endorse Aoun for president during his press conference following his meeting with Aoun.
Aoun thanked Geagea for his endorsement
" We will not forget what Geagea has presented for Lebanon." He said
"We support all the principles that Geagea had stipulated." He stressed
"On this historic day, I believe we will be able to achieve what we have pledged", Aoun added.
Aoun / Franjieh race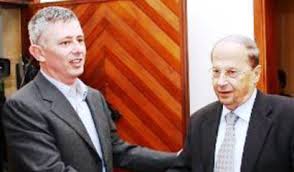 Most observers that that Ya Libnan spoke to are of the opinion that this endorsement does not in any shape or form guarantee the Baabda seat for Aoun specially since the Lebanese Forces may not have any support within its March 14 alliance for this move.
Without the support of his allies within the March 14 alliance Geagea will only be able to deliver his handful of LF MPS .
On the other hand Aoun will lose the support of Franjieh's MPs if the Marada chief sticks to his new stance .
MP Jumblatt whose parliamentary bloc has more MPS than both Geagea and Franjieh will most probably side with Franjieh, specially since he was instrumental in convincing Hariri to back Franjieh's candidacy .
Speaker Nabih Berri has reportedly given the MPs of his parliamentary bloc the freedom to chose the candidate they wanted.
Based on the above scenarios the numbers don't add up for Aoun
The 35th election session is scheduled for February 8, 2016.
The question on everyone's mind is : "Will Hezbollah and Aoun's MPs show up this time ?"
One observer told Ya Libnan:
"It will be interesting to find out what is the fine print in the deal between Aoun and Geagea." The observer added: The only think that united Geagea and Aoun is their hatred to Franjieh after all.
.