Will Geagea really endorse Aoun's candidacy for president ? Yes he did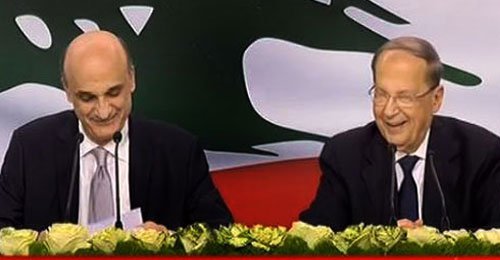 Lebanese Forces chief Samir Geagea is reportedly expected to formally announce his support for the candidacy of Change and Reform bloc leader MP Michel Aoun during a press conference he is scheduled to hold on Monday.
Lebanese Forces media chief Melhem Riachi announced minutes ago that following a meeting with FPM chief Gebran Bassil Geagea will be endorsing Aoun for president during a press conference
Earlier today As Safir daily quoted LF sources as saying that Geagea will announce "important stances" during the conference.
The sources did not give further details. But LF officials have been lately hinting that Geagea will endorse the candidacy of Aoun, who is the founder of the Free Patriotic Movement, against the candidacy of Marada Movement chief MP Suleiman Franjieh.
Franjieh's bid for the country's top Christian post is backed by al-Mustaqbal movement that is led by ex-PM Saad Hariri.
According to As Safir daily, Change and Reform MP Ibrahim Kanaan and LF official Melhem Riachi held separate meetings with Aoun and Geagea on Sunday to put the final touches on a visit that the FPM founder is expected to make to Maarab.
The meeting at Geagea's residence is expected to be a culmination of the "presidential understanding" between him and Aoun, said As Safir.
Riachi also visited Maronite Patriarch Beshara al-Rai in Bkirki on Monday.
Update
LBCI reported that Aoun arrived at Bkirki for talks with al-Rai. about an hour ago
Aoun said after meeting al-Rai: "We hope that obstacles will be overcome and wish us luck."
Then Aoun left for Maarab ( Geagea's residence ) for talks with Geagea.
Geagea after talks with Aoun said " The vacuum in the presidency has crippled state institutions and almost led to the country's collapse."
Geagea called on his allies in March 14 to endorse Aoun for president during his press conference following his meeting with Aoun
"I declare, after thorough assessment among the LF, the nomination of MP Michel Aoun as president." Geagea said.
"Aoun's nomination will hopefully lead us to a normal life in Lebanon." He added
"The positive progression of ties between the LF and FPM led to this moment." He added.
"We are committed to the National Pact, as stipulated by the Taif Accord, and empowering the army." He added.
"All agreements of the national dialogue should be adopted." He added
"All international resolutions should be respected and implemented." he added
"I call on independent figures to back Aoun's nomination for president." he added
"We demand the adoption of a fair parliamentary electoral law." Geagea said
Aoun then thanked Geagea for his endorsement
" We will not forget what Geagea has presented for Lebanon." He said
"We support all the principles that Geagea had stipulated." He stressed
"The past should not be forgotten." He said
"I wish well to all the Lebanese." He said
"On this historic day, I believe we will be able to achieve what we have pledged", Aoun added.
Many observers were expecting Geagea's endorsement of Aoun's presidency today.
But most of the observers are of the opinion that this endorsement does not in any shape or form guarantee the Baabda seat for Aoun specially since the Lebanese Forces may not have any support within its March 14 alliance for this move.
The 35th election session is scheduled for February 8, 2016
It will be interesting to see if Hezbollah and Aoun's MPs will show up this time .
One observer told Ya Libnan;
"It will be interesting to find out what is the real deal between Aoun and Geagea."