Roumieh's Islamist inmates on hunger strike, demanding same deal as Samaha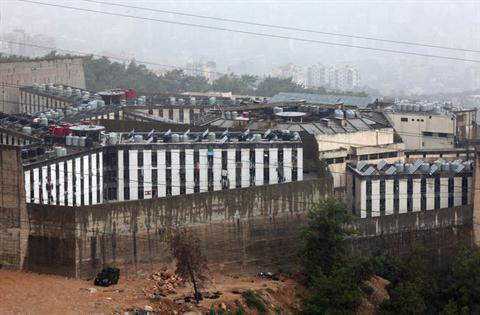 Islamist inmates in Roumieh prison went on a hunger strike on Friday in protest at the release of former Minister Michel Samaha, in what seems to be a call for their own release under pretext that they have served their sentence.
"The Islamic inmates from Tripoli began a hunger strike in protest at the release of Samaha," said inmate Ziad Allouki in an audio recording, according to LBCI.
Allouki was the so-called leader of the Souk al-Qameh fighting frontier in Tripoli's Bab al-Tabbaneh neighborhood when gunbattles with the rival Jabal Mohsen were at peak between 2013 and 2014.
He was arrested in April 2014 when the Lebanese security forces launched massive crackdowns on street leaders in Bab al-Tabbaneh that led to the imprisonment of many influential leaders including Allouki, whom reports said has surrendered under specific conditions.
Officials had promised that Allouki would be released from jail two weeks after surrendering to authorities.
The Military General Prosecution agreed on Thursday to release Samaha on a 150 million Lebanese pounds bail but prohibited him from traveling and making statements through various media.
Later during the day, families of the Islamist inmates held a sit-in denouncing the ex-minister's release.
Spokesman for the inmates said: "Samaha was caught red-handed and was insolently released. This is a new crime of an official institution of Bashar Assad's regime.
"We demand his re-arrest, release of Muslim youths, and sacking of officials affiliated with Iran and Syria."
Several Lebanese officials expressed their outrage on Thursday over the Military court's decision to release the former minister who had been convicted on terrorism charges early last year.
Lebanese Forces leader Samir Geagea said the decision to release Samaha on bail on Thursday was "rejected by all accounts."
"How can I accept that a Lebanese (national) conspires with a foreign side to carry out murder and bomb attacks in his country? How can I accept the release of these sorts of people?" Geagea wrote on his Twitter feed.
"What kind of message are the judges and officers sending to the people with this decision? What hope are they leaving for their (the peoples) futures and the sovereignty of their country and the freedom of their sons?" he asked.
Interior Minister Nouhad Mashnouk said the decision was a clear contradiction in itself to the Military Tribunal on all logical, national and legal standards.
"We will, as a party, have a stance regarding those who are working on the basis of abolishing the nation for the benefit of killers… Our stance will be much bigger than that which justifies murder and bombs sent from the Syrian regime," Mashnouk said, in reference to the Future Movement, to which he belongs.
Justice Minister Ashraf Rifi, also a Future Movement official, lashed out at the judicial and security officials for the decision to release Samaha.
Hezbollah 's parliamentary bloc chief MP Mohammed Raad defended Samah's release but slammed as "malicious, temperamental and non-objective" the statements that criticized the release
Former PM Saad Hariri in apparent response to MP Raad said :" Those who are defending the criminal are worse criminals."
The ex-minister was arrested in August 2012 and charged with attempting to carry out "terrorist acts" over allegations that he and Syrian security services chief Ali Mamluk transported explosives and planned attacks and assassinations of political and religious figures in Lebanon.