Lebanon outraged over Samaha's release from jail and PM Salam orders retrial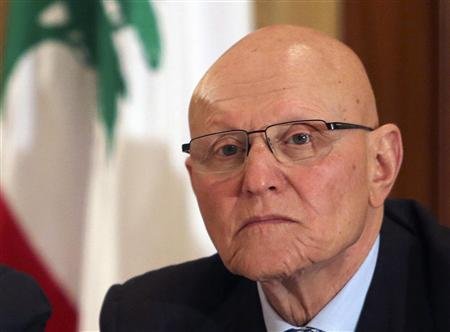 Lebanese Prime Minister Tammam Salam demanded on Friday the immediate retrial of former Information Minister Michel Samaha because of the "delicate" nature of the case.
This comes as angry protesters have been blocking roads across Beirut over Samaha's release on bail.
"I look forward, like all Lebanese, to have a judicial authority that only bows to the power of right and works to serve justice and implements laws to protect the individual and society," Salam said in a statement after meeting with General Prosecutor Samir Hammoud, who is also the deputy head of the Higher Judicial Council.
Hammoud briefed Salam during their meeting on the Military Court's decision Thursday to grant bail to Samaha, who was convicted on terrorism charges and sentenced to four and a half years in jail.
Samaha was sentenced in May 2015 to four-and-half years in prison, but in June Lebanon's Cassation Court nullified the verdict and ordered a retrial.
"It's a case linked to the national security of a country that is still engaged in a battle with various forms of terrorism that target its stability, social fabric and democratic principles," Salam said.
The decision to release Samaha outraged several March 14 and centrist officials and their supporters, who blocked roads across Beirut, its suburbs, and some parts of the north Thursday.
Huge protest in Ashrafieh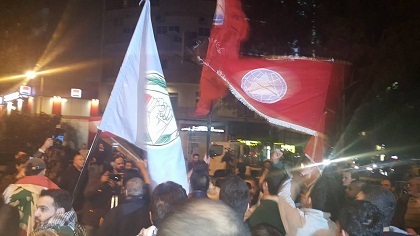 Supporters of the March 14 coalition and the Progressive Socialist Party began gathering on Friday in Ashrafieh's Sassine Square ahead of a rally to express their outrage over the controversial release of Samaha from prison.
They gathered at the square before marching towards the former minister's nearby residence.
Security forces had earlier in the day blocked the roads leading to his house near Rizk Hospital in Ashrafieh in Beirut.
Demonstrators also passed by the scene of the assassination of Internal Security Forces Intelligence Bureau chief Wissam al-Hassan, who was killed in a bombing in Ashrafieh in 2012.
The Intelligence Bureau played a major role in Samaha's arrest.
Samaha's release drew wide condemnation among the March 14 camp, with head of the Future l Movement MP Saad Hariri deeming it a "shame and a scandal."
Hariri vowed that he would not remain silent over the affair, adding: "Today we feel disgusted from the insufficient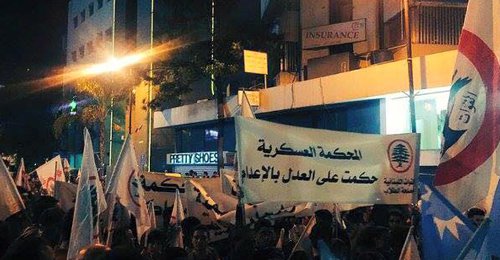 justice and we are fearful over the security of the Lebanese as long as the doors are open for criminals to escape a just ruling."
He noted that "the first response to this legal heresy must be a draft law to revise the Military Court's jurisdiction."
Justice Minister Ashraf Rifi pledged that he would "perform his duties in this issue."
Repercussions of the release carried on until Friday with protesters briefly blocking roads in several areas in Beirut, such as the Cola and Qasqas neighborhoods.
Samaha, who was information minister from 1992 to 1995, was released in exchange for a bail payment of 150 million Lebanese pounds ($100,000), according the text of the Military Court's judgment.
Under his bail conditions, Samaha, 67, would be barred from leaving the country for at least one year, speaking to the press or using social media.

The ex-minister was arrested in August 2012 and charged with attempting to carry out "terrorist acts" over allegations that he and Syrian security services chief Ali Mamluk transported explosives and planned attacks and assassinations of political and religious figures in Lebanon.
Samaha, a former adviser to Syrian President Bashar Assad, admitted during his trial that he had transported the explosives from Syria for use in attacks in Lebanon.
Here are pics of the protest near Samah's  residence in Ashrafieh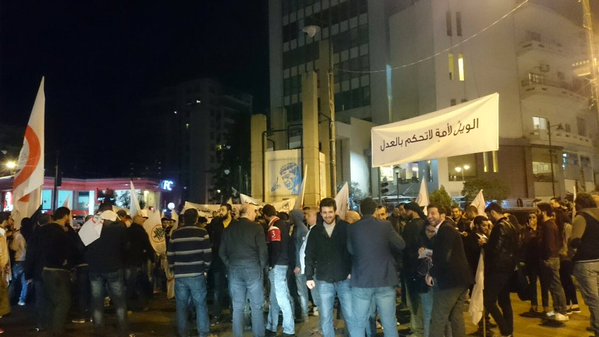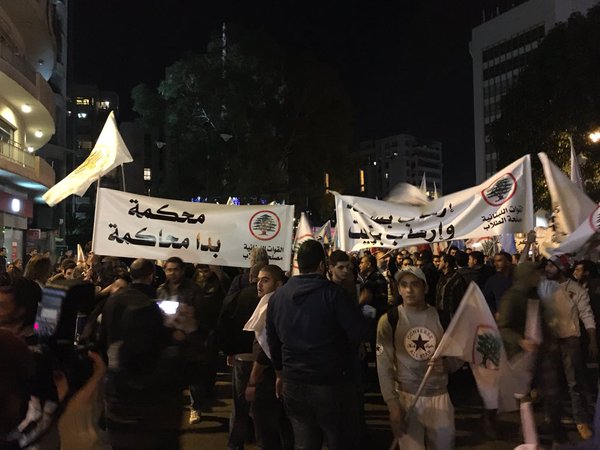 Justice Minister Ashraf Rifi told MTV : "Have given instructions to prepare the request for referral of the case to the Judicial Council in the the first cabinet meeting because this is a national crime"
The military court that freed Samaha consists of a judge Tany Lattouf and four military officers : Brigadier Osama Atshan, Brigadier Gabriel Khalife, Brigadier Ali Abi Raad and Brigadier Jean Gemayel. Ya Libnan has learned that two officers were appointed two months ago to replace two others who insisted that Samaha should be jailed for at least ten years. The lawyers say that the assurances that were given by the court to some Ministers, that the Samaha file will not be tampered with and will be jailed for at least 10 years were nothing but hogwash and meant to deceive the government .