Hariri: Bassil's stance at Arab League appeases Iran, harms Lebanon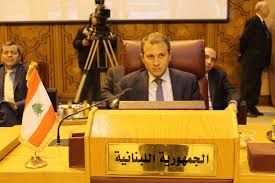 Former Lebanese PM and Future Movement leader Saad Hariri expressed regret on Lebanon's abstention from voting on the Arab League statement that denounced Iran's acts against Saudi Arabia, Hariri's press office said in a statement on Monday.
"The abstention of Lebanon's Foreign Minister to vote on the Arab League's resolution does not reflect the opinion of the majority of the Lebanese who are suffering from the Iranian interference in their internal affairs," Hariri's press statement said.
"The majority of the Lebanese exchange feelings of solidarity with Saudi Arabia which is recognized for its supporting stances during times of crises and after each Israeli aggression against Lebanon," he added.
"Alleging that the Arab League's final statement on Hezbollah's interference in Bahrain does not justify evasion from consensus on a fundamental issue addressing the Iranian meddling in internal Arab affairs. It is a fallen reason that does not go in parallel with the concept of prioritizing Lebanon's national interest to the Arab consensus.
"We are in front of a stance that only serves to appease Iran and harms Lebanon's history with its brethren Arabs," added the ex-PM.
Top Arab diplomats, except Lebanon, rallied behind Saudi Arabia on Sunday in a dispute with Iran that has threatened to derail efforts to resolve Middle East conflicts including the war in Syria.
The Arab League joint statement denounced the "hostile acts and provocations of Iran".
The Free Patriotic Movement leader on Sunday expressed Lebanon's rejection of an Arab League statement condemning Hezbollah over alleged interference in Bahrain..
"This Lebanese stance is based on Lebanon's interest in preserving the region's stability and its domestic unity and stability," Bassil  who was  attending  a meeting of Arab foreign ministers in Cairo  as  Lebanon's FM  told the group.
Protesters in Tehran stormed the Saudi embassy and a Saudi consulate elsewhere in the country after Saudi Arabia executed prominent Shiite cleric and opposition leader Sheikh Nimr al-Nimr earlier this month.
Bahrain announced Wednesday that it had dismantled a "terror" cell linked to Iran's Revolutionary Guard and Lebanon's Hezbollah.
The alleged cell was planning to carry out a "series of dangerous bombings" in the tiny Sunni-ruled kingdom, a Bahraini interior ministry statement said.
A secret terrorist plot aided by the so-called Iranian Revolutionary Guard and the Hezbollah terrorist organization was foiled," Bahrain's BNA news agency reported last week.
"It targeted the security of the kingdom of Bahrain by (plotting to) carry out a series of dangerous bombings," it added.
The Interior Ministry arrested six people. Two of the suspects managed to escape the country, with one of them finding refuge in Iran, it said.
The "terrorist cell" was allegedly headed by twin brothers, Ali and Mohamed Fakhrawi, according to the report..
Hezbollah has been accused on several occasions of interfering in Bahrain's internal affairs . The Bahraini government presented on several occasions proofs of Hezbollah's involvement