Sean Penn's interview helped locate the Mexican Drug Lord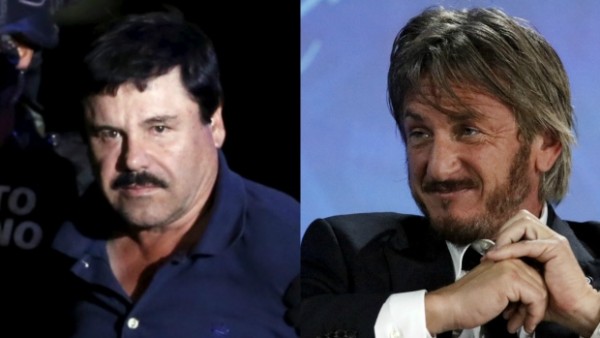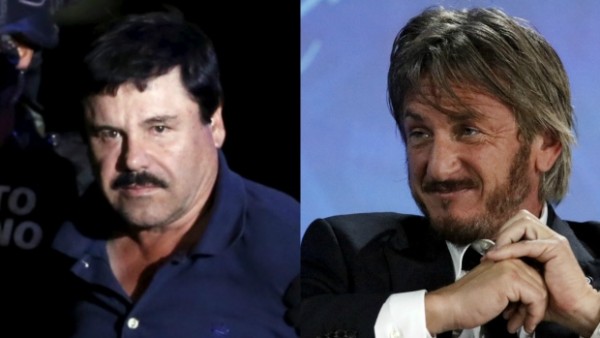 Mexican officials say Sean Penn's contacts with drug lord Joaquin "El Chapo" Guzman helped them track the fugitive down – even if he slipped away from an initial raid on the hideout where the Hollywood actor apparently met him.
Penn's article on Guzman was published late Saturday by Rolling Stone magazine, a day after Mexican marines captured the world's most wanted kingpin in a raid on the city of Los Mochis near the Gulf of California.
Penn wrote of elaborate security precautions, but also said that as he flew to Mexico on Oct 2 for the meeting, "I see no spying eyes, but I assume they are there."
He was apparently right.
A Mexican federal law enforcement official, speaking on condition of anonymity because he was not permitted to comment on the issue, told the Associated Press the Penn interview led authorities to Guzman in the area of Tamazula, a rural part of Durango state.
They raided Guzman's remote hideout a few days after the interview and narrowly missed capturing Guzman, whose July escape from Mexico's top security prison – though a mile-long (1.5-kilometer) tunnel – had embarrassed President Enrique Pena Nieto and made his capture a national priority.
Describing the capture, Attorney General Arely Gomez said that investigators had been aided in locating Guzman by documented contacts between his attorneys and "actors and producers" she said were interested in making a film about him, though she did not name them.
Two months after that close call, marines finally caught him in a residential neighborhood of Los Mochis, where they'd been monitoring a suspected safe house. Five people died in a gun battle as troops moved in.
In the interview, Guzman defends his work at the head of the world's biggest drug trafficking organization, one blamed for thousands of killings. When asked if he is to blame for high addiction rates, he responds: "No, that is false, because the day I don't exist, it's not going to decrease in any way at all. Drug trafficking? That's false."
Penn wrote that Guzman was interested in having a movie filmed on his life and wanted Mexican actress Kate del Castillo, who had portrayed a drug trafficker in a television series, involved in the project.
"He was interested in seeing the story of his life told on film, but would entrust its telling only to Kate," wrote Penn, who appears in a photo posted with the interview shaking hands with Guzman.
There was no immediate response from representatives for either Penn or del Castillo to the Mexican official's comments.
Earlier Saturday, a federal law enforcement official said that Mexico is willing to extradite Guzman to the United States – a move authorities had ruled out before his July escape.
"Mexico is ready. There are plans to cooperate with the U.S.," said the Mexican official, who spoke on condition anonymity because he wasn't authorized to comment.
But he cautioned it could take at least six months to approve extradition through courts, where Guzman's attorneys can battle a move to the U.S., where he faces drug trafficking charges in several states.
"That can take weeks or months, and that delays the extradition," he said. "We've had cases that take six years."
Guzman's attorney Juan Pablo Badillo told the Milenio newspaper that the defense already has filed six motions to challenge extradition requests.
"They can challenge the judge, challenge the probable cause, challenge the procedure," said Juan Masini, former U.S. Department of Justice attache at the U.S. Embassy in Mexico. "That's why it can take a long time. They won't challenge everything at once … they can drip, drip, milk it that way."
According to a statement from the Mexican Attorney General's office, the U.S. filed extradition requests June 25, while Guzman was in custody, and another Sep. 3, after he escaped. The Mexican government determined they were valid within the extradition treaty and sent them to a panel of federal judges, who gave orders for detention on July 29 and Sept. 8, after Guzman had escaped.
Those orders were not for extradition but just for Guzman to begin the extradition hearing process. Now that he is recaptured, Mexico has to start processing the extradition requests anew, according to the law.
The Interview
 Recently captured drug lord Joaquin "El Chapo" Guzman was unapologetic for running one of the world's biggest drug trafficking organizations in a Rolling Stone interview with American actor Sean Penn.
Guzman said in the magazine interview published late Saturday that he entered the drug trade at age 15 because there was no other way to survive. "The only way to have money to buy food, to survive, is to grow poppy, marijuana, and at that age, I began to grow it, to cultivate it and to sell it. That is what I can tell you."
Penn had the first-ever interview with Guzman in early October while the world's most-wanted drug lord was on the lam after escaping through an elaborate tunnel from Mexico's maximum security prison in July.
Guzman was recaptured Friday in the city of Los Mochis in his home state of Sinaloa after a shootout that killed five of his associates and wounded one marine.
A Mexican law enforcement official said Saturday that the interview in the remote community of Tamazula in the northern state of Durango helped authorities track the whereabouts of the drug lord, who earns millions shipping tons of cocaine and manufacturing and transporting methamphetamine and heroin to world markets, the largest in the U.S. market. His cartel also is blamed for thousands of killings.
A few days after the interview, members of the Mexican Navy launched an operation to capture him, but Attorney General Arely Gomez said Friday that it was aborted because he was accompanied by two women and a young girl, whom they did not want to harm.
Officials apparently then lost track of him. But he was later traced to a home in Los Mochis that was under surveillance for a month before marines moved in.
Penn's meeting with Guzman was arranged through Mexican actress Kate del Castillo, known for her television portrayal of a female drug lord. She was first contacted in 2012 by the drug kingpin after sending him a tweet urging him to turn to good works and start "trafficking with love." He contacted her again after his arrest in February 2014, when "gringos were scrambling to tell his story," Penn wrote.
"He was interested in seeing the story of his life told on film, but would entrust its telling only to Kate," he wrote.
Penn described an elaborate travel itinerary of private planes and a seven-hour ride through mountainous jungle in a two-truck convoy. They were never blindfolded along the way. They spent seven hours eating and drinking with the kingpin until he went off with his men at 4 a.m. and Penn and company went to sleep.
Penn asked for a photo shaking Guzman's hand to prove to his editors that he actually saw him. An M16 was on the couch opposite them, Penn wrote.
Penn said he received credible information that the DEA was on the trail of the actors, as raids intensified after their first meeting. During their initial encounter, he asked Guzman for a formal interview that was supposed to happen a week later. But with the pressure of federal forces, Guzman instead videotaped his response to Penn's questions and sent it to Del Castillo.
In the video, Guzman said he grew up poor, selling oranges, soft drinks and candy as a child. He took care of his grandmother's cattle and chopped wood.
He said he is not responsible for the epidemic of illegal drug use in the U.S. and around the world.
"The day I don't exist, it won't decrease in any way at all," he said.
Prosecutors say Guzman is responsible for thousands of killings and for inciting violence in border cities such as Ciudad Juarez across from El Paso, Texas, in his bid to control shipping routes. Wars between Guzman's Sinaloa cartel and the local Juarez cartel made the city one of the deadliest in the world around 2010.
When asked whether his activities impact Mexico, he responded, "Not at all."
"Drug trafficking does not depend on just one person. It depends on a lot of people," Guzman said.
He said he hasn't used drugs in 20 years and is a person "who's not looking for problems in any way."
Penn, reminding him of the gun battle that killed another famous drug lord, Colombia's Pablo Escobar, asked Guzman how he sees his final days in the drug business.
"I know one day I will die," Guzman said. "I hope it's of natural causes."
Associated Press