Lebanon will be "on the brink of collapse says Harb after 34 sessions to elect a president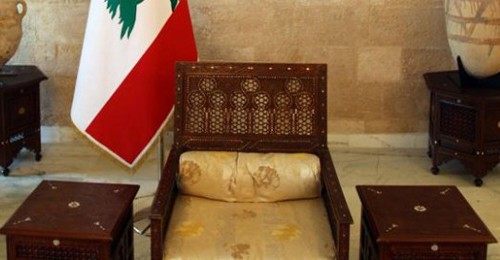 The Lebanese parliament failed again today and for the 34th time in a row to elect a president to replace Michel Suleiman whose term ended on May 25 , 2014.
As in the past sessions the parliament was unable to reach a quorum because the Iranian-backed Hezbollah militant group and its ally MP Michel Aoun's Change and Reform bloc MPs boycotted the session.
Speaker Nabih Berri a key ally of Hezbollah postponed the election to to February 8, 2016 .
MP Marwan Hamadeh said after the failed election session : "The number of lawmakers present at the failed session reflects the pessimism over the possibility to elect a head of state."
MTV said that some 36 MPs were present at parliament.
"Neither the local nor regional conditions indicate that a president will be elected any time soon," added Hamadeh.
He noted that the deterioration of ties between Saudi Arabia and Iran will negatively impact the chance to elect a president in Lebanon.
Telecommunications Minister Butros Harb meanwhile condemned the ongoing failure to elect a president, saying: "We can no longer continue in such a manner."
"We cannot claim to love this country and then treat it in such a way," he said.
"We will continue to attend these electoral sessions, because we have a duty to fulfill. We hope other officials will also assume these responsibilities," he stressed.
"They should realize that they should perform these duties in wake of the explosive regional developments," Harb said and waned that Lebanon will be "on the brink of collapse if this situation persists."
Lebanese Forces MP George Adwan said after the failed session: "The failure to resolve our problems means that we place the interests of Saudi Arabia, Iran, and other countries over ours."
Tensions between Saudi Arabia and dipped to a new low after the kingdom executed an Iranian backed Shiite cleric Sheikh Nimr al-Nimr over the weekend.
The development saw the severing of ties between the two sides.
Iran is being blamed for the presidential vacuum by Lebanese Forces leader Samir Geagea who was the first to announce his presidential candidacy.
Marada Movement chief MP Suleiman Franjieh emerged recently as a potential presidential candidate after visiting former PM Saad Hariri in Paris . But Aoun reportedly rejected his candidacy and Hezbollah went along with Aoun and declared that the FPM leader is its sole candidate . This is despite the fact that Franjieh is a key member of the Hezbollah -led March 8 alliance and the closest to Syrian president Bashar al Assad.
Franjieh held a meeting last Sunday in Syria with the embattled Syrian president reportedly to seek Assad's blessing for his possible nomination.