Lebanon to provide UN with details of 1168 violations by Israel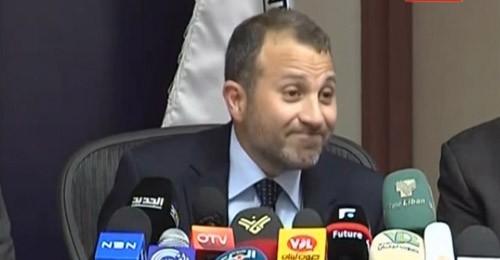 Lebanese Foreign Minister Gebran Bassil on Tuesday instructed Lebanon's diplomats to provide the U.N. Security Council details of about 1,168 land, aerial and maritime violations of Lebanese sovereignty in 2015 , National News Agency reported.
Lebanon regularly files U.N. complaints over Israel's near-daily land, air, and sea violations of Lebanese sovereignty.
Israel occupied much of southern Lebanon between 1982 and 2000 and its invading army reached the capital Beirut in 1982.
It fought a devastating war with Hezbollah in 2006 in which more than 1,200 people, mostly civilians, were killed in Lebanon.
On Monday, Hezbollah attacked an Israeli armored vehicle with a roadside bomb along the border and Israel responded with artillery fire.
Hezbollah said it set off a large explosive device as an armored patrol passed in the disputed Shebaa Farms area, destroying a Humvee and causing casualties among the soldiers inside.
Israel fired dozens of shells into south Lebanon as its warplanes and reconnaissance drones staged intensive overflights over the country.
Hezbollah's attack was in response to the killing in Syria of the party's top operative Samir al-Kuntar.
Hezbollah was founded in 1982 by the Quds force of Iran's Revolutionary Guards after Israel invaded Lebanon. The militant group is one of the main Iran-backed factions in the region.