Geagea urges calm to preserve Lebanon, as tension escalates in the region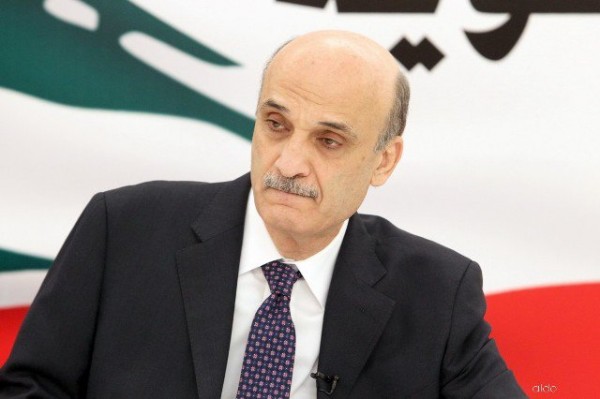 Lebanese Forces leader Samir urged all political groups to practice calm and premeditation at this critical stage because "our major goal is to preserve our country," he said on Monday.
"All political factions should practice calm and forethought at this difficult stage in the history of the region, because in the end our first and foremost duty is to preserve Lebanon regardless of anything else," said Geagea via twitter.
He was referring to the latest Saudi-Iranian conflict that emerged following the execution of a Saudi Shiite cleric Nimr al-Nimr in Saudi Arabia and the fiery reactions that followed after that in Lebanon.
"What compels some parties to expose Lebanon's national security to danger by sharply attacking brethren Arab countries without any justification related to Lebanon's interest?" Geagea asked, in a possible reference to Hezbollah's attacks against Saudi Arabia
On Sunday, Hezbollah chief Hassan Nasrallah launched one of his fiercest verbal attacks to date against Saudi Arabia over its execution of al-Nimr, as he warned against turning the issue into a Sunni-Shiite conflict.
"The execution (Saturday) of Sheikh Nimr al-Nimr reveals to the world the real criminal, takfiri and terrorist face of Saudi Arabia," Nasrallah said.
Saudi Arabia on Saturday executed 47 people convicted of "terrorism", including al-Nimr whom Saudi authorities said was behind anti-government protests.
Former PM and Future Movement leader MP Saad Hariri was quick to hit back at anti-Saudi remarks by Hezbollah chief on Sunday, accusing the party of "acting as if it is in charge of all Shiites in the world."
"It is extremely regrettable that some in Lebanon are attacking the kingdom and its leadership in an unacceptable and detestable manner," Hariri said in a press release.
"Some are talking about Saudi Arabia and its role as if they are talking about themselves and about the situation in Iran and the Iranian people's suffering," he added.
He noted that Nasrallah's remarks about "oppression, tyranny, terrorism, murder, criminality, executions, destruction, displacement, blocking dialogue, massacres, interference in others' affairs, sectarian sedition and the elimination of opponents … actually and truly apply to the practices of the Iranian regime and its expansion scheme."
Arabs severing ties with Iran
Saudi Arabia cut ties with Iran on Sunday, responding to the storming of its embassy in Tehran in an escalating row between the rival Middle East powers over Riyadh's execution of a Shi'ite Muslim cleric.
Bahrain announced Monday that it was also severing diplomatic ties with Iran.
In addition to Bahrain other Arab nations joined the Saudis in diplomatic action against Iran
Sudan has expelled Iran's ambassador and the UAE has downgraded its diplomatic team.
"In response to the barbaric attacks on the Saudi Arabian Embassy in Tehran and its consulate in Mashhad … the government of Sudan announces the immediate severing of ties with the Islamic Republic of Iran," a Foreign Ministry statement said.
The United Arab Emirates said it will cut the number of Iranian diplomats in the country.
Iran continues to occupy 3 UAE islands in the Gulf
Protest in Lebanon
A relatively small protest was held Sunday outside the Saudi embassy in Beirut to condemn the kingdom's execution of al-Nimr, amid strict security measures.
Al-Jadeed television which is closely associated with Hezbollah said around 20 people took part in the sit-in following invitations on social networking websites.
Muslim cleric Sheikh Suhaib Habli delivered an address at the location.
"The problem today is between good and evil," he said.
The protesters then performed a prayer and chanted slogans against the kingdom's ruling Saud dynasty.
They then headed to the headquarters of the U.N.'s Economic and Social Commission for Western Asia in downtown Beirut to join another sit-in condemning Nimr's execution.