Tension between Israel-Hezbollah near Lebanon Border heats up after bomb attack
Lebanese militia group Hezbollah attacked an Israeli armored vehicle with a roadside bomb along the border Monday and Israel responded with artillery fire.
Hezbollah said it set off a large explosive device as an armored patrol passed in the disputed Chebaa Farms area, destroying a Humvee and causing casualties among the soldiers inside.
The Israeli army said vehicles in the area were hit with an improvised explosive device and that it responded with targeted artillery fire. It did not say whether there were any casualties.
Lebanese security officials said more than 50 Israeli shells hit several villages in the area where the Hezbollah operation was carried out. Residents along the border said shelling from Israeli tanks and artillery landed in agricultural areas inside Lebanon, but did not report casualties.
The officials said the patrol was hit near an Israeli army position in the Kfar Chouba hills that Lebanon says is Lebanese land occupied by Israel. The residents requested anonymity, saying they feared for their safety, while the officials did so in line with regulations. Neither group had any immediate word on casualties.
The Hezbollah unit that carried out the bombing was named after Samir Kuntar, a high-profile figure in the group who was killed last month in Syria in an attack blamed on Israel.
Hezbollah has vowed to avenge the killing of Kuntar, who was the longest serving Lebanese prisoner in Israel before he was released in 2008 in exchange for the bodies of two Israeli soldiers killed in a cross-border raid two years earlier.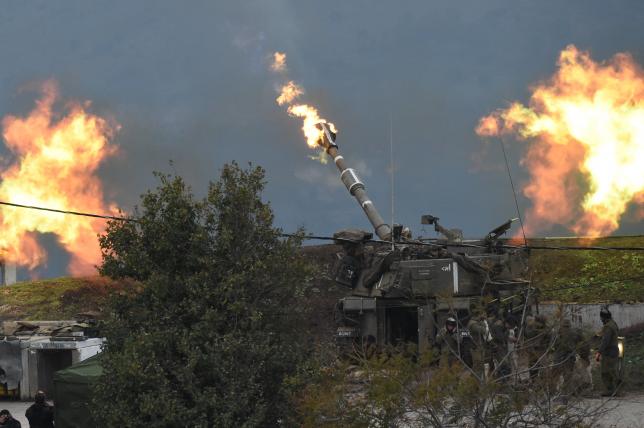 'Danger of Miscalculation'
U.N. Special Coordinator for Lebanon Sigrid Kaag expressed "concern" Monday after Hezbollah claimed the the bomb attack against an Israeli army vehicle in the occupied Shebaa Farms and Israel retaliated by shelling south Lebanon.
She highlighted "the danger of miscalculation which could lead to a deterioration of the situation on the ground," Kaag's office said in a statement.
Kaag urged all parties to "fulfill their obligations under (U.N. Security Council) resolution 1701, and to refrain from any acts or rhetoric which could undermine stability across the Blue Line," the statement said.
In a statement, Hezbollah claimed responsibility for the attack and said it "destroyed an Israeli armored vehicle and injured those in it."
Associated Press/ Agencies