Hezbollah chief: Israelis hiding like rats along border, Kuntar revenge will come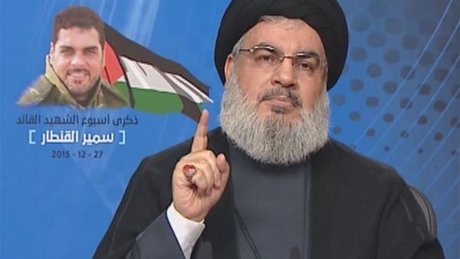 Hezbollah chief Hassan Nasrallah reiterated his pledge Sunday that his group will retaliate against Israel over the assassination of its senior operative Samir Kuntar.
In a televised speech marking one week since Kuntar's death in an air raid in Syria that Hezbollah has blamed on Israel Nasrallah vowed: "The retaliation to Samir's assassination will inevitably come."
Israel was blamed for the airstrike that killed Kuntar although a Syrian rebel group claimed responsibility.
Nasrallah said that the timing and place of retaliation is now in the hands of Hezbollah's fighters and military commanders.
"We do not fear any repercussions or threats and we cannot tolerate that the blood of our jihadist fighters and brother be shed anywhere in this world," Hezbollah's leader stressed, in a possible response to warnings by diplomats in the event of a retaliation.
"The Israelis are hiding like rats along the border , he said . The Israelis are worried and they should be worried — along the border and inside Israel. Their threats will not benefit them," Nasrallah added.
He said that Samir Kuntar has become "an icon for the school of resistance."
"After he was freed from prison, Samir could have lived a normal life among his family and friends, and he could have stayed in the axis of resistance without getting involved militarily, but he refused to do so," Nasrallah said.
"It was one of the ideas I proposed to him and I told him that he could play an intellectual role," he revealed.
Commenting on Kuntar's role in the so-called Syrian Resistance for the Liberation of the Golan, Nasrallah said: "When the activities of the resistance started near the Golan, Israel grew very anxious, and it started retaliating in a disproportionate manner to any shelling or gunfire on the border, even if it did not cause casualties."
Nasrallah noted that Israeli Prime Minister Benjamin Netanyahu has "sought to obtain international recognition of the annexation of the Golan under the excuse of the Syrian conflict."
"Israel decided that eliminating such an important target is worth the adventure and the sacrifice … They thought that Kuntar is not that important to Hezbollah," he added.
Israel captured the Golan during the Six Day War in 1967.
Nasrallah also referenced the wave of violence in Israel in which there are stabbing attempts by Palestinian assailants on a nearly daily basis.
"Those who are staging stabbing operations in Palestine know that they would either be martyred or jailed," Nasrallah said.
"As we commemorate Kuntar, we must revive the spirit of sacrifice, because this is a key condition for the rise of the people, the persistence of resistance and the creation of the future," he added.