Hezbollah chief holds Israel responsible for Kuntar's assassination , dismisses FSA claim
Hezbollah chief Hassan Nasrallah  held Israel completely responsible for the assassination  of Samir Kuntar  and  dismissed FSA claim in which the rebel group took responsibility for the assassination.
In a televised speech Nasrallah also denounced last week's  massacre of the Shiites in Nigeria.
Nasrallah said Israel made it clear on several occasions that it won't leave Kuntar alone .
"I have no doubt that Israel is responsible for the assassination of Kuntar," said Nasrallah. "Israeli planes fired guided precision missiles on a multi-story apartment building."
Commenting on reports that Israel did not enter the Syrian airspace  he said .
"It doesn't matter if the planes entered Syrian airspace or if the missiles were fired from Israeli territory," said Nasrallah. "It's an inconsequential technical matter. What's important is that Israel is behind the assassination."
Nasrallah vowed to retaliate
Nasrallah revealed that Kuntar was planning an attack against Israel either from inside Israel or from south Lebanon
The Free Syrian Army released a video clip on Monday morning claiming responsibility for killing Kuntar.
In a YouTubevideo featuring armed rebels from the Free Syrian Army, a spokesman denied Hezbollah's claims that the Israel was behind the attack, saying instead that they had managed to assassinate Kuntar and his companions.
The Free Syrian Army said that "the Party of Satan," a play on the meaning of Hezbollah in Arabic (Party of God), had made the claims that Israel was behind the assassination in order to demoralize the Free Syrian Army and undermine their rival group's achievements.
The Free Syrian Army is fighting against the regime of Syrian President Bashar Assad, while Hezbollah has sent thousands of its own fighters from Lebanon to Syria to bolster Assad. In addition Hezbollah has been training in south Lebanon and Bekaa Shiites from Afghanistan and Pakistan and sending them over to Syria
In the YouTube clip, the the so-called "knights of the Houran brigade" warned, "Hezbollah will not be spared from our future strikes."
Israeli never claimed responsibility for the strikes, but media reports on Sunday quoted Hezbollah's al Manner TV that Kuntar was killed in an Israeli raid near the Syrian capital.
According to Al Manar Israeli warplanes targeted a building where Kuntar and a number of his companions were residing in Hay al-Homsi in Jaramana southeast of Damascus.
Witnesses said that three missiles were launched at the residential building and led to its total collapse, killing six individuals and wounding another twelve.
Kuntar was convicted of carrying out one of the most daring attacks in Israeli history and spent nearly three decades in an Israeli prison.
Kuntar, known in Lebanon as "The Dean of Lebanese Prisoners" for being the longest-held prisoner in Israel, was killed along with eight others in the strike in the Damascus suburb of Jaramana Saturday night, Hezbollah's al Al Manner reported on Sunday.
Hezbollah's Al-Manar TV said two Israeli warplanes that violated Syrian airspace fired four long-range missiles at the residential building in Jaramana. It aired footage of what it said was the building, which appeared to be destroyed. Kuntar's brother, Bassam, confirmed his "martyrdom" in a Facebook post on Sunday.
Syrian state news agency SANA said Kuntar was killed in a "terrorist and hostile missile attack on a residential building." SANA did not mention Israel in its report on the strike, which it said killed several people.
Although Al-Manar said Israeli warplanes violated Syrian airspace, the Lebanon-based Al-Mayadeen TV station, which is close to Hezbollah and the Syrian government, said two Israeli warplanes fired the four missiles while flying over northern Israel.
Al-Mayadeen said that Farhan al-Shaalan, a senior commander with the anti-Israeli "resistance" movement in the Golan Heights, was also killed in the air raid together with an aide to Kantar.
Israeli Cabinet minister Yuval Steinitz said he was not sorry about Kuntar's death but could not comment on the accusations that Israel was behind the killing.
"If something happened to him I think that no civilized person can be sorry. But again I learned it from the reports in the international media and I can make no concrete reference to it," he said.
Kantar and four Hezbollah militants were freed in 2008 in exchange for the bodies of two Israeli soldiers captured by Hezbollah in 2006, whose capture sparked a 34-day war between Israel and Hezbollah. His release was highly controversial in Israel, where he is believed to be the perpetrator of one of the most grisly attacks in Israeli history.
Latest US sanctions
Nasrallah condemned the latest U.S. sanctions  and claimed that they are based on "unjust and false accusations," noting that the party is "not concerned with offering a proof of its innocence."
He described the U.S. sanctions as a "political accusation aimed at tarnishing the image of Hezbollah in the minds of the peoples of the world and the region."
"We do not have funds in any bank in the world or in Lebanese banks and the central bank and the directors of banks must not panic." He said in reference to a  US possible action against Lebanese banks that are funding Hezbollah .
He warned the government and the banks  against bowing to the Americans
He added: "We are proud to be the enemies of Israel and America "
Kuntar buried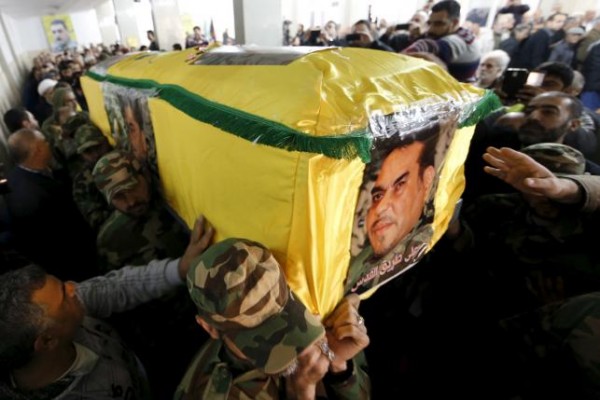 Thousands of people chanted "death to Israel" as Hezbollah fighters in military uniforms carried Kuntar's coffin, which was wrapped by the group's yellow flag, to a Shi'ite Muslim cemetery in its south Beirut stronghold where he was laid to rest.
"Samir is one of us, a commander of our resistance and it is our right to retaliate for his assassination in the place, time and way we see appropriate," Nasrallah said. "We will exercise this right, God willing. Everyone should bear this mind."
In a symbolic gesture at Monday's funeral, Hezbollah fighters carrying Kuntar's coffin stopped by the grave of Moughniyah, where they took the group's official oath and pledged loyalty to Nasrallah.
"If the Israelis think by killing Samir Kuntar they have closed an account then they are very mistaken because they know and will come to know that they have instead opened several more," Hashem Safeieddine, a senior official in the powerful Shi'ite militant movement, said at the funeral.