Gemayel : we want a president for all the Lebanese, not one faction only
l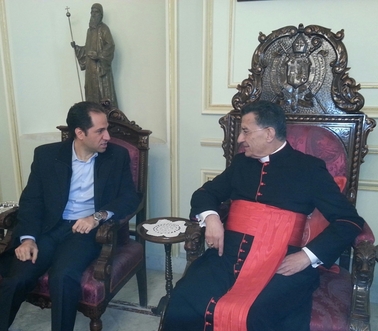 Phalange Party leader MP Sami Gemayel and former minister Salim al-Sayegh headed to Bkirki on Friday for a meeting with Maronite Patriarch Beshara al-Rai.
An hour later Free Patriotic Movement chief Gebran Bassil joined the meeting .
The talks follow an overnight meeting in Bkirki between al-Rai and Marada Movement leader MP Suleiman Franjieh.
Commenting on Franjieh's possible nomination for president Gemayel told reporters :
"We want to know if Franjieh wants to meet us halfway and if he will put his friendships aside." He is possibly referring to Franjieh's friendship with Syrian president Bashar Al Assad .
Last night Franjieh said his relation with Syria's leader should be considered "a point of strength, not a point of weakness."
Gemayel stressed that his party wants a president for all the Lebanese and not one faction only and added : "We will not put a veto on any candidate who meets with us on these national constants."
Franjieh emerged recently as a potential presidential candidate after visiting Former Lebanese PM and Future movement leader MP Saad Hariri in Paris . But the former FPM chief MP Michel Aoun reportedly rejected his candidacy and Hezbollah went along with Aoun and declared that the former FPM leader is its sole candidate . This, despite the fact that Franjieh is a key member of the Hezbollah -led March 8 alliance and the closest to Syrian president Bashar al Assad.