Phalange party, Geagea discuss presidential election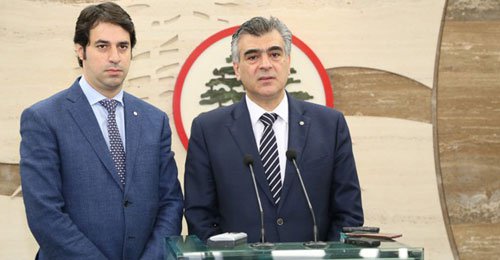 A Phalange Party delegation met  on Saturday with Lebanese Forces chief Samir Geagea to discuss   the latest developments regarding the presidential elections and the potential nomination of Marada Movement leader MP Suleiman Franjieh.
Following the meeting MP Salim al-Sayegh was quoted as saying:  "It is too soon to comment on whether we will support Franjieh as a candidate."
"We do  not oppose a candidate, but a presidential platform." He added
"We believe in respecting the constitution and electing a president who believes in freedom, sovereignty, and independence," he declared.
He emphasized that the Phalange Party and Lebanese Forces will coordinate their stances on the adoption of a new parliamentary electoral law.
"We reject the 1960s law and hope for the approval of a modern one that will ensure fair representation among the people, especially Christians," Sayegh stated.
Franjieh has emerged as a potential  presidential candidate in recent days following  talks he had held last week with former PM and Future  Movement chief MP Saad Hariri in Paris, France.
Meanwhile sources revealed  to the Kuwaiti newspaper al Anbaa that the  Franjieh promised   Hariri 2 undertakings:
1- His continued commitment  concerning "the Taif Agreement",
2- His  continued commitment  to maintain the current electoral law the so called 1960 law
But Franjieh was  reportedly clear with Hariri on two issues
He won't change his stance under any circumstances: His  relationship with Syria and resistance .
Franjieh's grandfather former president Suleiman Franjieh was the one who invited the Syrian army to come to Lebanon in 1976 following the outbreak of the civil war.
Franjieh is also a key member of the Hezbollah-led March 8 alliance .
Franjieh's commitment