U.S., France agree to intensify fight against Islamic State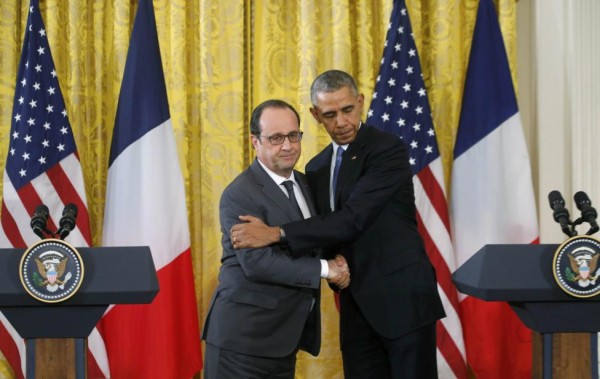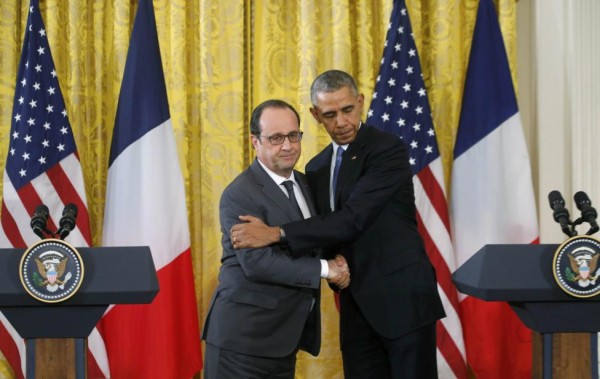 The United States and France agreed on Tuesday to ramp up military operations against Islamic State in Syria and Iraq and coordinate intelligence on domestic threats following the worst attacks to hit France since World War Two.
Relations between the two allies over Syrian policy have been strained since August 2013 when U.S. President Barack Obama canceled a plan to strike Syrian President Bashar al-Assad's forces over the use of chemical weapons.
French warplanes were ready on the runway when the word came from Washington that Obama had decided against action.
In a joint news conference at the White House, French President Francois Hollande, visibly moved by Obama's support for France following the Nov. 13 attacks in Paris that killed 130 people, cast aside those differences and said he and Obama shared a "relentless determination to fight terrorism anywhere and everywhere."
"We will not let the world be destroyed. To face Daesh (Islamic State), we must have a common, collective and implacable response," Hollande said.
"We must destroy Daesh wherever it is, cut its financial resources, hunt down its leaders, dismantle its networks and reconquer the territory it controls."
The two countries decided to intensify and broaden the scope of air strikes in Syria and Iraq and strengthen intelligence sharing on Islamic State targets. Neither leader gave concrete details on how operations would be scaled up.
"We got what we came to get," said a senior French official, declining to elaborate. "The intensity (of action) has been increased by 3 degrees."
As the two leaders spoke, a joint French and American raid struck an Islamic State command center in Iraq.
The official said the two men also agreed to renew efforts to support rebels on the ground, including through equipping and training them.
RALLYING INTERNATIONAL SUPPORT
Obama acknowledged fear among Americans of a Paris-style attack in the United States. He urged Europe to share more intelligence on people traveling between the continent and the Middle East.
"We can do a better job at coordinating between countries," Obama said, offering to share U.S. tools for screening refugees from the conflict.
Hollande said the two leaders agreed on the importance of closing the Turkish border to limit the movement of extremists into Europe. The French official pointed to a small stretch of the border that Turkey had still not closed north of Aleppo and which Islamic State was using to traffic goods and men.
Hollande is trying to rally support this week for a more coordinated international campaign to destroy Islamic State. He spoke to British Prime Minister David Cameron on Monday, will speak to German Chancellor Angela Merkel on Wednesday and is due to visit Moscow on Thursday.
Highlighting his solidarity with France, Obama traced the history of friendship between the two countries dating to the 18th century.
He said there was a picture next to his bed in the White House of him kissing his wife, Michelle, in the Luxembourg Gardens in Paris.
"Nous sommes tous francais (We are all French)," Obama said, concluding with "Vive la France!"
Reuters