Lebanon parliament holds its first legislative session in a year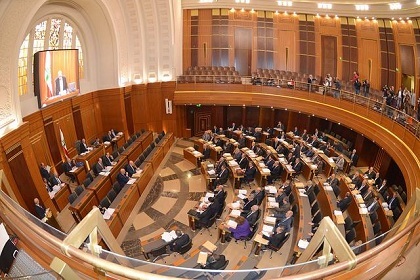 A parliament legislative session aimed at tackling a number of financial draft-laws is being held for the first time in aa year amid a boycott by the Phalange Party and a sit-in staged by its supporters in protest against the meeting.
The Lebanese Forces and Free Patriotic Movement decided to participate in the meeting following an agreement that was reached on Wednesday that met their demands regarding restoring the nationality of expatriates and the parliamentary electoral laws.
The meeting is being chaired by Speaker Nabih Berri and is attended by Prime Minister Tammam Salam.
Salam declared from parliament: "This is a national moment and we hail the efforts that led to holding the legislative session."
Phalange calls for election of a president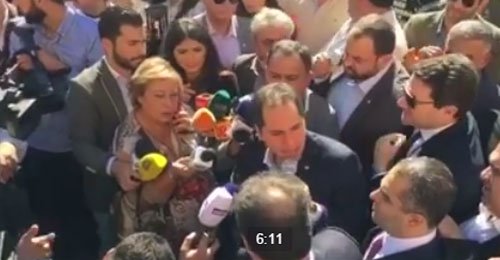 Despite the boycott the Phalange Party lawmakers had attended the meeting in hope that Berri would turn it into a session to elect a president.
The speaker rejected their demand however and they withdrew from parliament where the protesters were gathered.
Phalange Party chief MP Sami Gemayel told the protesters: "Article 74 of the constitution stipulates that should there be a presidential vacuum for any reason, parliament must immediately convene to elect a new head of state."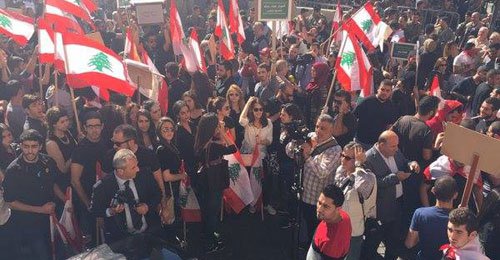 "By law, the parliament in the absence of a president transforms it from a legislative body to an electoral one," he added.
"We must immediately elect a new president without any debate or discussions in accordance with the constitution," he stated.
"There are no technical, national, or constitutional factors hindering the election of a president. Is the implementation of the constitution prohibited and its violation permitted?" he wondered.
"There is no greater duty than respecting the constitution and the election of a president," Gemayel declared.
The party had vowed not to attend any legislative session before the election of a new president.
The Lebanese parliament failed again yesterday and for the 31st time in a row to elect a president to replace Michel Suleiman whose term ended on May 25 last year.
As in the past sessions the parliament was unable to reach a quorum because the Iranian-backed Hezbollah militant group and its ally MP Michel Aoun's Change and Reform bloc MPs boycotted the session.
Speaker Nabih Berri a key ally of Hezbollah postponed the election to to December 2 .
Food safety law
Health Minister Wael Abou Faour announced that the parliament approved the food safety law.
"I hope the food safety law would pave way for better health among the people ", he was quoted as saying at the end of the first part of the session.
Electoral law
The Speaker suggested the formation of a committee to agree within two months on an electoral law, otherwise the draft laws will be referred to the committee for voting, VOL 100.5 reported.
12 laws
VDL (93.3) reported that the Parliament approved 12 laws and the lawmakers' discussions revolved around the garbage crisis.
Speaker Nabih Berri told VDL (93.3)" I am ready to call for a session in the afternoon or even at midnight to elect a president if consensus is reached."