Tashnag MP urges Berri to postpone Parliamentary session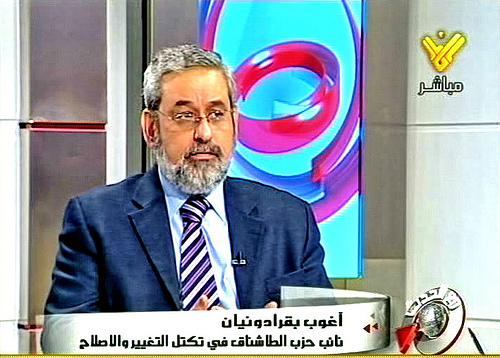 MP Hagop Pakradounian, who represents the Tashnag party in the parliament told LBCI that his party hopes Speaker Nabih Berri "will postpone the session to allow further consultations and secure the attendance of the biggest number of blocs, especially Christian ones."
"If the session does not get postponed, we will announce our stance tomorrow evening," Pakradounian ,an ally of the Hezbollah militant group was quoted as saying.
A prominent figure had told An Nahar newspaper in remarks published Tuesday that the situation has reached such a point that "street action is not ruled out over the possible absence of Christian blocs from the session."
The protests may take place on Thursday before, after, or while the session is underway, the source said.
The legislative session is scheduled for November 12 and 13 amid a boycott by the Phalange Party over the ongoing presidential vacuum.
The FPM and the LF have meanwhile cited Berri's failure to include the electoral law in the agenda as a reason for their possible boycott.
Meanwhile, the country's main Christian parties intensified their consultations on Tuesday to coordinate stances ahead of the controversial legislative session that is scheduled to be held on Thursday and Friday.
"We cannot overlook the absence of the electoral law from the session's agenda," Change and Reform bloc secretary MP Ibrahim Kanaan said after meeting Phalange Party chief MP Sami Gemayel in Saifi.
Kanaan was accompanied by Lebanese Forces media officer Melhem Riachi.
"Our demands must be taken into consideration and the discussions were constructive with MP Sami Gemayel on the issue of the electoral law," Kanaan added.
"We agreed that the session must not be held in the absence of main blocs and we will announce our measures in the right time," he said.
Aoun threatens
Change and Reform bloc leader MP Michel Aoun stressed Tuesday that the electoral law must be put on the agenda of the upcoming legislative session, warning that his bloc will take "strong and decisive measures" Wednesday over the issue.
"The agenda is not limited to financial legislation, contrary to the agreement that we made when we discussed the legislation of necessity," said Aoun after the bloc's weekly meeting.
"We insist that the electoral law must be placed on the session's agenda and no one can prevent us from including it," Aoun underlined.
Warning that the session would be unconstitutional without the attendance of the country's main Christian parties, Aoun noted that legislation must be limited to "the formation of authorities" in the absence of a president.
"A year and five months have passed and I don't see real measures aimed at approving a new electoral law," Aoun lamented, noting that his bloc's promised measures will become known "by noon tomorrow."
"A session without us would be a dangerous precedent," he cautioned.
"Those claiming that they will represent Christians in the legislative session only represent a few thousand voters," he warned.
Hezbollah prefers postponement of the session
Al Liwa newspaper reported late Tuesday evening that Hezbollah also prefers to have the session postponed and reportedly asked his allies Pakradounian and Marada leader Suleiman Franjieh to relay the message to Berri