US envoy urges Lebanese to find innovative solutions to end crisis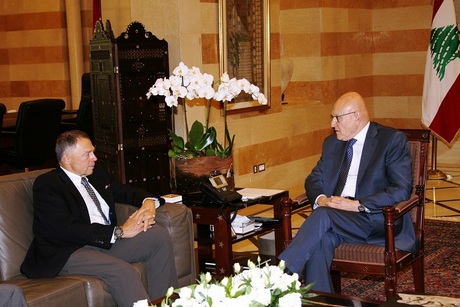 U.S. Chargé d'Affaires Richard Jones on Friday urged Lebanon's political leaders to look for innovative Lebanese solutions to overcome the country's growing political crisis, stressing that internal stability cannot be bought anywhere.
"Domestic political stability cannot be bought or furnished from the outside. Lebanese political leaders need to come together now to find innovative Lebanese solutions to the challenges facing the country, so as to end the current political paralysis," said Jones following his first meeting with Prime Minister Tammam Salam at the Grand Serail.
Jones, who arrived in Beirut overnight, will be in charge of the transition period until the a new ambassador is confirmed to replace David Hale, the U.S. embassy said in a statement.
"The Cabinet, Parliament, and a new President need to get back to work for the benefit of the people they were or will be elected to serve," Jones added after his talks with Salam.
"While these challenges require Lebanese solutions, please rest assured that America will stand by your side as you grapple with them," he added.
The envoy said talks tackled "the many interlocking political, economic, security, and humanitarian challenges confronting Lebanon today."
"I told Prime Minister Salam that America will remain a steadfast supporter as Lebanon responds to the threats presented by the spillover from the crisis in Syria," he said.
Jones also vowed to "work tirelessly to ensure American assistance in the military, economic, and humanitarian spheres continues to help build a secure, prosperous, and stable Lebanon."
"Our assistance to equip and modernize the Lebanese Armed Forces will continue in order to bolster their ability to counter the extremist threat and to fulfill the LAF's responsibilities as the sole entity with the legitimacy and capacity to defend Lebanon's territory and its people," he said.
Jones has "deep experience" serving in the region, including as ambassador to Lebanon from 1996 to 1998, the embassy said in its statement.
"His return to Beirut and continued service underscores the priority that the United States places on its strong and enduring partnership with Lebanon at this critical time," it stressed