Turkey's Erdogan demands respect for his party's election victory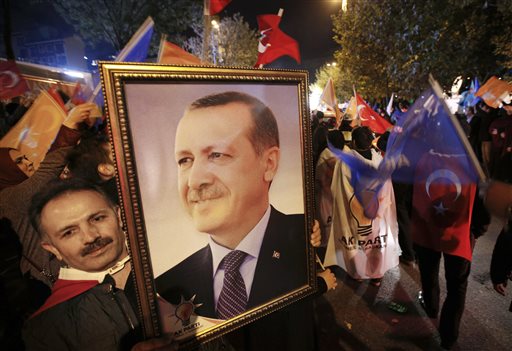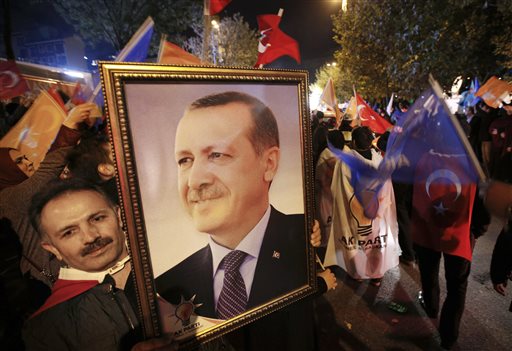 ISTANBUL (AP) — Turkish President Recep Tayyip Erdogan on Monday hailed a big victory for his ruling party in the country's parliamentary election and demanded the world respect the result.
The ruling Justice and Development Party, or AKP, secured a stunning victory in Sunday's snap parliamentary election, sweeping back into single-party rule only five months after losing it.
With all of the ballots counted early on Monday, the preliminary results showed that the party won more than 49 percent of the votes. It was projected to get 317 seats in the 550-member parliament, restoring the party's single-party majority that it had lost in a June election.
The Turkish lira was up about 4 percent against the dollar on Monday morning, while the main stock index rallied 5.5 percent as investors cheered the result, which ends a period of political uncertainty.
"The whole world must show respect. So far I haven't seen such a maturity from the world," Erdogan said after attending prayers at a mosque and visiting his parents' graves.
It was an apparent reference to Western media's often critical coverage of AKP's policies in the past few years, including the ruling party's backsliding on democratic reforms and moves to muzzle critical voices.
Erdogan had called for a new election after Prime Minister Ahmet Davutoglu failed to form a coalition with any of the three opposition parties in parliament after the June vote.
Sunday's election was held amid renewed violence and Erdogan and Davutoglu argued that only a single-party majority could restore stability.
Fighting between Turkey's security forces and Kurdish rebels has left hundreds of people dead and shattered an already-fragile peace process. Two recent massive suicide bombings at pro-Kurdish gatherings that killed some 130 people, apparently carried out by an Islamic State group cell, also raised tensions.
"The will of the people … opted for stability," Erdogan said. "The developments in that short span of time made the people say: 'there is no way out other than stability.'"
Most analysts had expected AKP to fall short again, but the preliminary results suggest it picked up millions of votes at the expense of a nationalist party and a pro-Kurdish party.
On Monday, the European Union's chief diplomat Federica Mogherini and EU Commissioner Johannes Hahn issued a joint statement praising the strong voter turnout of more than 85 percent as a sign of the Turkish people's commitment to democracy. They said the 28-nation group would work with the new government to advance ties.
ASSOCIATED PRESSS