Military Salaries: Outraged Army chief tells politicians find the money now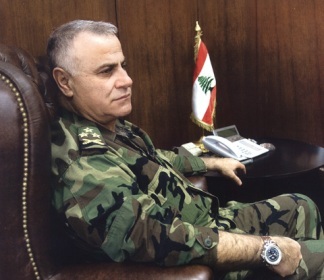 Lebanon Army chief Gen. Jean Kahwaji is outraged over the delay in payment of salaries to the military and stressed that the issue must be "solved as soon as possible," assuring that he will not stand idle, al Mustaqbal daily reported on Sunday.
"We will not remain silent, we want the payrolls as soon as possible," he told Mustaqbal.
Qahwaji pointed out to the anger within the ranks of the military.
"Some military personnel have not been paid since the Al-Adha holiday and that is 45 days ago. They (government) have to pay, there are a million ways to pay, let them find one. It is not our problem," the outraged Army chief said.
"We cannot stand and watch while the military get deprived of their salaries," he added.
Finance Minister Ali Hassan Khalil said last week that the cabinet must convene in order approve the payment of the salaries of public sector employees including the military, assuring that the matter is "not political but constitutional."
The military have not received their salaries for the month of October which drew the ire of the military.
Maronite Patriarch Beshara Boutros al-Rai said on Sunday that the Lebanese state has touched the verge of collapse in light of the vacuum at the presidential post and the paralysis of the parliament and government.
Lebanon has been without a head of state since President Michel Suleiman's six-year term ended in May 2014.
The government assumed the responsibilities of the head of state on a temporary basis but sharp differences have stopped it short of taking important decisions.
The Baabda Palace vacuum has also caused the parliament's paralysis.