Islamic State official arrested in Lebanon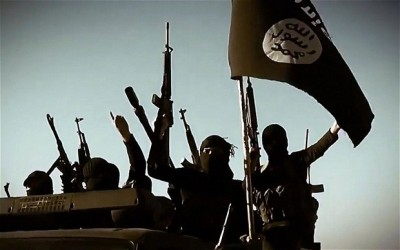 A prominent official of the Islamic State extremist militant group has reportedly been arrested along with other suspects in Lebanon and he has confessed to plotting a wave of attacks in the country, the General Security said on Thursday.
The militant, a Palestinian national, confessed to being "the religious official of the terrorist IS group in the Ain el-Hilweh Palestinian refugee camp " in southern Lebanon, the security agency said in a statement.
He also confessed to forming an Islamic State cell along with his brother and another Palestinian refugee who were arrested in the same operation.
General Security reportedly arrested the IS militants in cooperation with the Lebanese Army as they attempted to cross into Syria from north Lebanon.
The Islamic State official's brother meanwhile confessed that he had visited the Syrian city of Raqa — the self-proclaimed capital of the Islamic State group — with the aim of "coordinating security operations inside Lebanon."
"He met with senior leaders of the IS group and they set up a central operations room in the Ain el-Hilweh camp and intended to link it to all IS terrorist cells operating in Lebanon's Palestinian camps," the General Security statement said.
"They plotted to target Lebanese army posts and checkpoints with suicide bombers, to assassinate Lebanese and Palestinian political figures, and to booby-trap cars to blow them up in Dahieh's neighborhoods, especially during occasions and ceremonies, including the Ashura commemorations," the General Security statement added.
According to the statement the IS cell intended to "stir sectarian sedition and undermine coexistence."
"Following interrogation, they were referred to the relevant judicial authorities and efforts are still underway to monitor and pursue the rest of the group's members as well as the instigators and collaborators," the General Security statement added