Kerry lobbies for U.S. to return to UNESCO board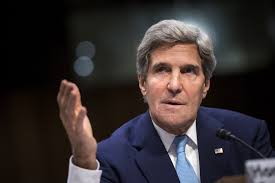 U.S. Secretary of State John Kerry on Sunday lobbied for the United States to be reelected to UNESCO's board, promising to work with Congress to restore funding after Washington cut off its contributions in 2011 in protest over the Palestinians being admitted as full members.
In a speech at UNESCO's Paris headquarters, Kerry said the United States had led new initiatives and deepened its involvement with UNESCO, the United Nations' cultural and educational arm.
"The United States is a proud candidate for re-election to UNESCO's executive board, and I am very grateful for the opportunity to be here just to talk with all of you … but really to explain to you the depth of the commitment that the United States has to this body, as well as our high hopes for the future," Kerry told UNESCO ambassadors and officials.
"We so greatly value UNESCO as a platform for cooperation with you, our partners, in advancing so many of the goals that we share as nations," he added.
The United States lost its voting rights to the UNESCO general assembly in November 2013 under the agency's rules after Washington failed to pay its dues, although it has remained on the executive board. It is currently $300 million in arrears to UNESCO.
Before Congress pulled financial support four years ago in response to a vote that gave Palestinians full membership, the United States provided about 22 percent of UNESCO's annual budget. Israel also lost its voting rights at the same time when it cut off funding.
Director-General of UNESCO, Irina Bokova, said the agency's work on education, especially among girls, as well as countering racism and fighting violent extremism were important to the United States.
Referring to the United States' late dues and funding freeze, she said: "We need the United States … in every family there are small problems. There is one small problem that we have to fix, maybe, with you, but I'm sure that with your commitment we will do that."
REUTERS