Lebanese family drowns in migrant boat off Greece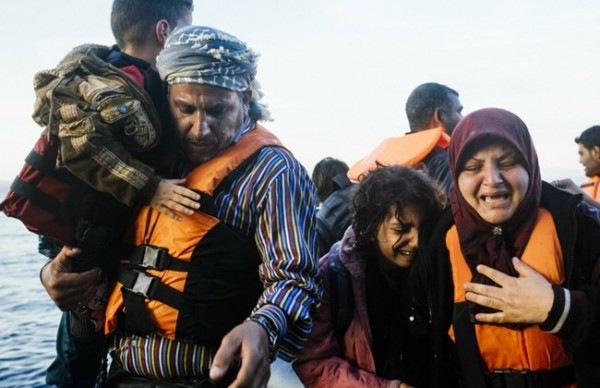 At least three members of a Lebanese family drowned when their migrant boat traveling from Turkey to Greece sank, their relatives said Thursday, adding that four others remained missing.
Members of the Safwan family, who reside in the southern Beirut suburb of Ouzai, told reporters that their relatives had traveled to Turkey to take a migrant boat to Greece in the hopes of seeking asylum in Germany.
The Safwan family is originally from the Bekaa town of Gorgan, but has been displaced to the Ouzai area following the battle of Qusayr  in Syria near the Lebanese border .
The Syrian  Army and the Lebanese Shiite  Hezbollah, militants launched several battles against the rebels  in Qusayr  in May 2013 resulting in the displacement of thousands .
The  relatives said the husband managed to swim to shore and inform relatives in Lebanon that his wife's body had been recovered.
The bodies of the mother's oldest daughter and another member of the family have also been recovered, according to a family member who spoke to Al-Jadeed.
He also announced that another two were in hospital, while one was in custody in Turkey, and that another four are missing.
The news comes after the Greek Ministry of Shipping said Wednesday that a woman, a young girl and a baby had died after the boat, carrying migrants and refugees to the Greek island of Lesbos, sank.
The three victims' bodies were found by divers under the capsized vessel, the ministry said.
The Greek coastguard had launched a search and rescue operation, aided by a helicopter of European border agency Frontex, after a Turkish patrol raised the alarm.
The ministry said 21 other migrants had been on board the boat, and that they had received reports of the three missing passengers.
The survivors were taken back to Turkey.
Members of the Safwan family in Lebanon appeared devastated and in shock over the incident. Television footage showed women sitting at a home in Ouzai wailing. They called on Lebanon's Foreign Ministry to take action and cooperate with authorities abroad to uncover the fate of the missing.
"We still know nothing from yesterday," a relative told MTV, as another added that no one in Lebanon has called to update the family.
The International Organization for Migration says more than 590,000 refugees and migrants have reached Europe's shores since January, while more than 3,000 have died or gone missing.
More than 450,000 of the total have arrived in Greece.
Athens and the U.N. refugee agency have both called on the European Union to open up more legal channels for refugees desperately fleeing war and persecution, so that they do not have to risk their lives in order to reach safety. – With AFP