British Grandfather Facing 350 Lashes in Saudi Arabia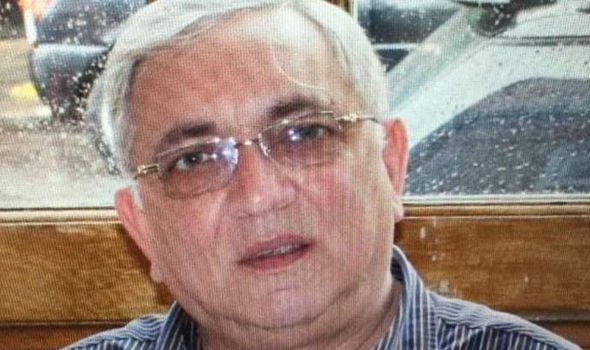 For more than a year, an asthmatic 74-year-old grandfather and former oil executive has sat in a prison in Jidda, Saudi Arabia, accused of violating the country's strict prohibition on alcohol after the authorities found bottles of homemade wine in his car.
The case of the former executive, Karl Andree, who has lived in Saudi Arabia for 25 years and is a cancer survivor, has now become a matter of geopolitical controversy amid an outcry over the sentence he faces: 350 lashes, a punishment that his family says could kill him.
The British government said on Tuesday that it was canceling a program to train prison officers in Saudi Arabia, and that Prime Minister David Cameron would make a personal appeal for clemency, as Mr. Andree's case continued to draw attention on social media.
"We are actively seeking his release as soon as possible," the Foreign and Commonwealth Office said in a statement. Officials later announced that Mr. Cameron also planned to make a personal request, in writing, for review of the case.
Mr. Andree's family has been pleading with the government to intervene.
Simon Andree, Mr. Andree's son, told BBC Radio 4 that he feared his father would not survive the flogging.
"He's had cancer three times," he said. "He suffers from severe asthma. He's an old, frail man, and I just fear that this lashing sentence is a death sentence for him."
Kirsten Piroth, Karl Andree's daughter, told the BBC that family members had abandoned earlier assumptions that Mr. Andree would be spared the whip because of his age and health. "I just want him home now," she said.
According to news reports, he was arrested in the port city of Jidda in August 2014 after the authorities found alcohol in his car. Saudi Arabia's legal code is based on a strict Wahhabi interpretation of Islamic law, though it is not uncommon for foreigners to consume alcohol covertly.
The Saudi Embassy in London could not be reached for comment. The kingdom has previously defended its judicial system, saying that it conforms with Islamic law and that it is applied equitably.
The case of Mr. Andree comes as Britain's relations with Saudi Arabia face renewed scrutiny. On Tuesday, the British government announced that the Justice Ministry would not be proceeding with a program to train Saudi prison staff members. The justice secretary, Michael Gove, told Parliament that the government would scrap the agreement, which is worth 5.9 million pounds, or about $9 million.
The leader of the opposition Labour Party, Jeremy Corbyn, had called on Mr. Cameron to scrap the contract on the grounds that Britain should not be aiding a country whose justice system allows for lashings, executions and beheadings.
In a speech at the party's annual conference, Mr. Corbyn also called on the government to intervene to secure the release of Ali Mohammed al-Nimr, a Saudi who faces beheading over reportedly taking part in antigovernment protests when he was 16 or 17. The son of a prominent dissident, he was arrested in 2012.
The United Nations last month also called on Saudi Arabia to prevent Mr. Nimr's execution, after a court upheld his sentence.
Saudi Arabia's judicial system has long been the subject of criticism from human rights groups, which have accused the country of holding unfair trials and dispensing disproportionate sentences, including the execution of juvenile offenders.
In a report issued in late August, Amnesty International said Saudi Arabia had executed at least 175 people over the previous 12 months.
Under the country's justice system, offenses including drug dealing, arms smuggling, murder and other violent crimes are punishable by death, usually by beheading in a public square. Offenses that can be punishable by flogging include meeting members of the opposite sex who are not close relatives; adultery; driving, if you are a woman; and homosexuality.
Saudi Arabia's justice system is administered by deeply conservative clerics applying Shariah law, and they often hand down harsh punishments for acts not considered crimes in many other countries. But not all of these punishments are carried out, especially when they are likely to elicit sharp international criticism.
A Saudi blogger, Raif Badawi, was arrested in 2012 and sentenced to 10 years in prison and 1,000 blows, to be administered weekly for several months, for running a liberal website. But after his public caning early this year led to widespread international condemnation, he corporal portion of his punishment was suspended, although he remains in prison.
Much about the inner workings of the Saudi justice system remains opaque, but analysts suspect that the royal family, which works hard to uphold the kingdom's image and its close alliances with the United States and other Western nations, intervenes in cases likely to cause repercussions.
The new leader, King Salman, has reinforced close ties to religious conservatives, and his willingness to pursue even the cautious overhauls of his predecessor remains unclear.
James Lynch, deputy Middle East and North Africa director at Amnesty International, said on Tuesday that flogging violated the prohibition of torture and other ill-treatment under international law. "It can never be justified," he said. "Saudi Arabian authorities must not carry out such brutal and degrading punishment."
He noted that this year, Mr. Badawi was taken out of a Saudi prison cell and publicly flogged, while Mr. Nimr was "presently sitting in another Saudi cell awaiting execution despite his youth" and serious concerns about the legitimacy of his conviction.
NY TIMES