Aoun marks 25 years of his defeat by Syrian army with a rally in Baabda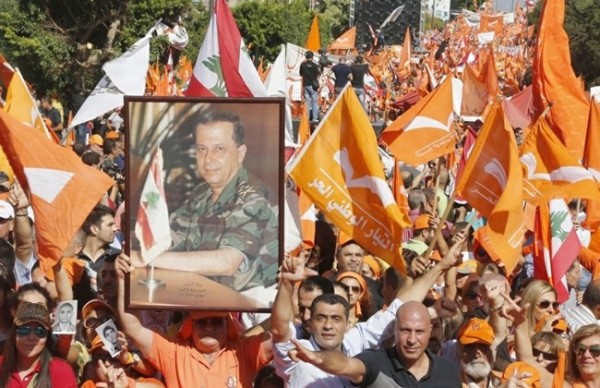 Supporters of Change and Reform parliamentary bloc leader MP Michel Aoun rallied near the presidential palace on Sunday in a show of support for the Christian politician and pressing their demand for him to fill the vacant presidency.
Waving the orange flag of Aoun's Free Patriotic Movement (FPM), they packed streets in the Baabda district that houses the headquarters of the presidency vacant for over a year due to political conflict.
The presidency is set aside for a Maronite Christian but has been vacant due to a political crisis stoked by regional conflicts including the war in neighboring Syria.
The rally was called to mark events in October 1990, near the end of the Lebanese civil war, when the Syrian army defeated Aoun on October 13 , 1990 forced him out of the presidential palace and later into exile to France .
Aoun, an ally of the Iranian backed Lebanese Shi'ite group Hezbollah, would like the presidency, but does not have the backing of the March 14 alliance led by former PM Saad al-Hariri.
That alliance includes prominent Christian rivals to Aoun, notably his civil war enemy Lebanese Forces leader Samir Geagea, who was the first to announce his candidacy for the presidency.
Resolving the deadlock over the presidency has been complicated by regional rivalry between Saudi Arabia, which backs Hariri, and Iran, which backs Hezbollah.
Aoun, arguing that Christians are being politically marginalized, has said the president should be elected in a popular vote if parliament cannot agree.
He has also taken aim at the national unity government led by Prime Minister Tammam Salam, saying it has usurped the powers of the presidency. FPM ministers have not however quit the government.
Salam's government, formed with Saudi-Iranian blessing, has spared Lebanon a complete vacuum in the executive arm but has been unable to take any major decisions due to a lack of consensus.
Lebanon's political paralysis has fueled a broader wave of discontent that has touched off sometimes violent protests over failing public services in recent months. Anger has come to a head this summer over a crisis over trash disposal, leaving piles of refuse mounting on Beirut's streets.
Speech
Aoun addressed his supporters in a speech in Baabda:
"Twenty-five years later, we find ourselves with the same determination and the same faith to renew the promise," he said.
"We will block your bad decisions and your institutions' operations, we paralyze your violations of constitutional provisions and those of the national pact that destroy all the pillars of the state," he declared.
"We have previously warned against wars against the Arab Spring and the chaos that destroyed the region." He added
With Reuters