PM Salam: Lebanon needs more than moral support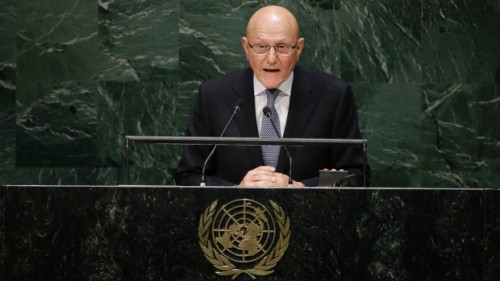 Prime Minister Tammam Salam  said Tuesday that  the moral support  that has been offered to Lebanon at the U.N. General Assembly would do little to help the country overcome its countless problems.
"I do not expect much from the [UN], because moral support will not help… real actual  support is more effective," Salam told Al Arabia TV on the sidelines of the annual summit.
"We need more money  to cope with the crises," he stressed  one day before he is set to address the assembly.
"The Syrian refugees share our water, electricity and hospitals, which constitutes a burden," he said, highlighting that "Lebanon's production index will be of 0 or 1 percent this year, which exacerbates the country's debts."
Regarding the country's recent series of anti-government protests, many of which descended into violence, Salam remarked that "clashes between protesters and security forces happen everywhere in the world."
The U.N. had requested $8.4 billion this year to cope with the crisis in Syria, but has not been able to raise half of it so far .
The U.N. says $2.9 billion is needed in 2015 for Syrians inside the country and $5.5 billion for those who have fled to surrounding countries.