French President Hollande postpones trip to Lebanon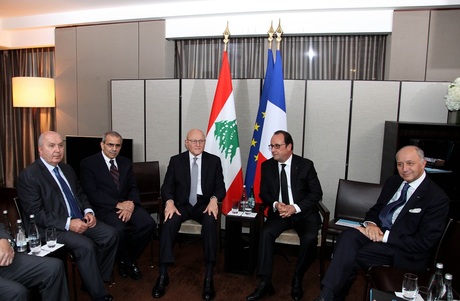 French President Francois Hollande has postponed his  previously announced visit to Lebanon probably until November so that the circumstances of its success can be ensured, Prime Minister Tammam Salam said Monday. Speaking to Lebanese reporters accompanying him on his current visit to New York to attend the General Assembly's meetings, Salam said: "French President Francois Hollande has not stopped making contacts concerning the presidential issue."
The French president had previously announced during his bi-annual news conference at the Elysée Presidential Palace in Paris earlier in September that he would head to Lebanon after the United Nations meetings.
The presidential palace has been vacant since the term of President Michel Suleiman ended in May last year.
The Baabda deadlock has caused parliament's paralysis and huge differences among cabinet members on controversial issues.
Salam has been meeting with top Arab and world leaders on the sidelines of the session.
Salam described U.S. President Barak Obama's speech at the General Assembly as "well calculated."
"It contained approaches to several topics, the most important of which is the Syrian issue," he said.
"The international community is preoccupied with itself and with the Syrian crisis, in addition to other subjects that dominate the talks at the United Nations," Salam said. "Lebanon is always on the agendas of meetings in New York, but with regard to a solution, nothing tangible has emerged."
On international financial aid to cope with the Syrian refugee crisis, Salam said: "The international community needs funds and it is dealing more seriously with the refugee crisis after it has knocked Europe's doors and it has realized that it has been shortcoming in this respect."
Salam is scheduled to address the General Assembly Wednesday before returning to Beirut where he is planning to hold a cabinet meeting this Friday