U.S. to make new diplomatic push on Syria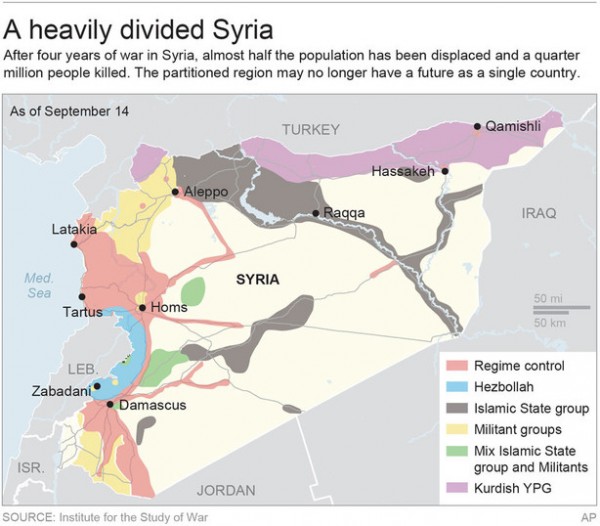 U.S. Secretary of State John Kerry will try to launch a new initiative for a political solution in Syria during meetings in New York in the next week, starting with talks with his Iranian counterpart on Saturday, U.S. and other Western officials said.
After backing a United Nations peace process that has failed to end the Syrian conflict, Kerry will test several ideas for a new approach during the United Nations General Assembly in New York in the coming days, the officials said.
The new approach – which officials stressed was in its infancy – could bring together Russia, a major ally of Syrian President Bashar al-Assad, Saudi Arabia and countries such as Turkey and Qatar, which support Syrian opposition groups.
Russia's sudden military build-up this month in support of Assad and a refugee crisis that has spilled over from the region into Europe have lent new urgency to attempts to resolve the Syria conflict.
Three years after the agreement of the Geneva Communiqué, a document setting out guidelines on Syria's path to peace and a political transition, the U.N. process has failed to make headway in brokering an end to the war.
"And so you will get from Secretary Kerry an effort to find some formula that will get us back to a real substantial negotiation," a senior U.S. official said.
U.S. Under-Secretary of State Wendy Sherman told reporters on Friday that Kerry would discuss Syria when he meets Iranian Foreign Minister Mohammad Javad Zarif in New York.
Iran, which has said it is willing to sit down with rivals to discuss the crisis in Syria, is a staunch ally of Assad that backs the activities in Syria of Lebanese militant group Hizbollah, which has given Assad vital support. U.S. officials acknowledge that to reach a political breakthrough in Syria, Iran will eventually have to play a role.
"We certainly know there are parallel interests" on Syria, Sherman said. "There are great political sensitivities in Iran about having these discussions, perhaps some limits, but it is important to engage to the extent we can."
Kerry had not wanted to discuss Syria at the same time as the negotiations on an Iran nuclear deal, which concluded in July, because he didn't want Tehran to think it could trade concessions on Syria, U.S. officials said.
The White House said on Thursday that President Barack Obama and Russian President Vladimir Putin would discuss Syria when they meet in New York on Monday. Diplomats say the meeting is critical for a better understanding of Russia's intentions.
One of the biggest obstacles, officials say, will be agreeing on the future of Assad.
The United States still insists "Assad must go" but has shown flexibility in recent months over the timing of his departure. Kerry stated in Europe at the weekend it need not be on "day one or month one."
Russia has shown signs it is willing to negotiate, but Iran is Assad's closest ally and
Early indications are that European allies, increasingly concerned with the refugee crisis, support Kerry's plans.
One European official said: "We fully support the U.N. process and are looking to explore other avenues, but the fundamental of 'Assad must go' remains."
SYRIA IN SHREDS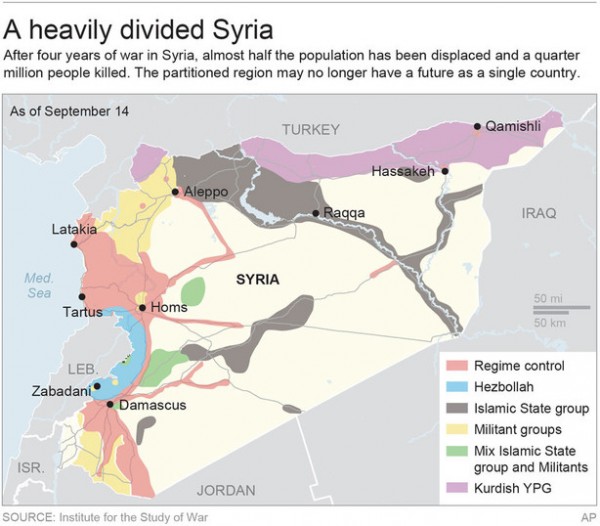 After four years of conflict, Syria is in tatters
The United Nations has said that 250,000 people have been killed and an estimated 7.6 million are internally displaced. Four million people are refugees in Syria's neighbors.
Russia's military build-up in Syria has complicated diplomacy, raising questions about Moscow's intentions and whether Moscow will cut a deal that sees Assad hand over power.
It has sharpened a debate within the Obama administration about whether the United States should cooperate with Russia on Syria. The United States and Moscow share concerns over the threat posed by Islamic State (IS) militants in Syria, though the type of military equipment Russia has deployed there has raised questions over its real focus.
U.S. Defense Secretary Ash Carter spoke with his Russian counterpart last week, amid concerns that aircraft from the two sides might accidentally come into contact over Syria. Russian drone flights so far, however, have not come close to areas where U.S. jets are flying, officials say.
One U.S. official, speaking on condition of anonymity, said Carter was reluctant to start coordinating with Russia's military without knowing clearly what its objectives are.
There is deep mistrust between Moscow and the United States following Russia's intervention in Ukraine and annexation of Crimea, which led to a substantial cut-off in contacts between the two countries' militaries.
U.S. Lieutenant General Ben Hodges, the commander of U.S. Army forces in Europe, told Reuters in an interview he believed there could be high-level dialogue with Russia on Syria, even as Washington pressured Moscow over Ukraine.
"It's not like all or nothing," Hodges said about diplomatic contacts between Russia and Washington.
But Hodges cautioned that Russia's role in Syria risked having a negative effect on the conflict from Washington's perspective.
"If they're siding with Assad, it's not so that they can kill IS, it's so they can fight against the anti-regime forces," Hodges said.
REUTERS