Pope Francis electrifies Congress with speech laying out bold vision for US
Pope Francis has electrified Congress with a call for action on climate change, immigration, poverty and capital punishment, laying down a challenge for the United States to transcend division and rediscover its ideals.
The pontiff triggered standing ovations – and squirming – in a historic address on Thursday which deftly mixed politics, policy and pageantry, casting an unfamiliar reverence over Washington which wrong-footed conservatives and liberals alike.
Speaking from a rostrum never before occupied by a pope, the Argentinian told a rare joint meeting of Congress to reject xenophobia and embrace immigrants. "We, the people of this continent, are not fearful of foreigners, because most of us were once foreigners," he said.
The 50-minute address held the chamber, which was packed with ambassadors and supreme court justices as well as senators and House representatives, spellbound, a feat seldom seen even during presidents' State of the Union speeches.
John Boehner, the House speaker who invited the pope, wept with emotion. The Catholic congressman had lobbied the Vatican for two decades for such a day.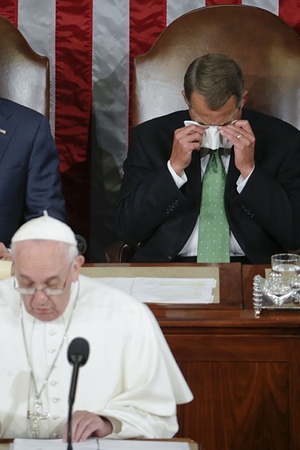 Francis laid out a bold vision of a more compassionate America which could use its might and ingenuity to heal the "open wounds" of a planet ravaged by hatred, pollution and inequality – a dramatic appeal in the context of polarising and raucous presidential nomination campaigns.
"We need to avoid a common temptation nowadays: to discard whatever proves troublesome. Let us remember the golden rule: 'Do unto others as you would have them do unto you.'" The line drew instant, thunderous applause from Democrats, followed with some hesitation byRepublicans, a pattern repeated throughout the address.
Francis later underlined his message by saluting tens of thousands of people gathered on the west lawn of the Capitol – "the most important ones are here, the children" – and then travelling in his now-famous Fiat to a lunch of steamed carrots, green beans, potato rolls and pasta salad for 250 homeless people in a white tent by St Patrick's church.
Francis – who once ministered in the slums of Buenos Aires – said there was "no social or moral justification" for homelessness.
"The son of God came into this world as a homeless person," he told them, speaking Spanish. "The son of God knew what it was to start life without a roof over his head."
A master of gesture, the pope juxtaposed the tailored suits and marbled grandeur of the Capitol with the scuffed clothes and broken teeth of impoverished Americans just a mile away, exhibiting two parallel worlds at the heart of US power.
Francis, making his first visit to the US, will make similar points in New York, where in addition to addressing the United Nations general assembly on Friday he will visit an East Harlem school, and in Philadelphia, where he will visit a prison on Sunday before returning to Rome.
America's suspicion of Catholics meant that as recently as 1960 John F Kennedy had to reassure the US that as its first Catholic president he would not take orders from Rome.
Times change. About one-third of the members of Congress are Catholics, and judging by their rapt attention and rapturous responses even those who are of other faiths, or no faith, revere the leader of the world's 1.2 billion Catholics.
Both sides of the aisle sought Francis's support for their political positions. His speech, delivered in halting, thickly accented English, tilted progressive but offered something for everyone – though sometimes with a sting.
A critic of capitalism making his first visit to the US at the age of 78, the pope deflected any perception of anti-Americanism declaring the US "the land of the free and the home of the brave", earning loud applause.
He invoked liberty, justice and compassion through the stories of four Americans – Abraham Lincoln and Martin Luther King, plus two lesser-known people, who instantly spiked on Google: Dorothy Day, a Depression-era activist for the poor, and Thomas Merton, a Catholic mystic and poet.
Without mentioning Donald Trump or other immigrant-bashing Republican presidential contenders, the pontiff summoned the spirit of America – North, South, Central – and its common humanity. "I too am a son of this great continent, from which we have all received so much and toward which we share a common responsibility."
He spoke of the refugee crisis in Europe and immigrants to the US. "On this continent, too, thousands of persons are led to travel north in search of a better life for themselves and for their loved ones, in search of greater opportunities. Is this not what we want for our own children?"
Millions have come to the US to dream of building a future in freedom, he said. "I say this to you as the son of immigrants, knowing that so many of you are also descended from immigrants." It brought the house down.
He urged his listeners, who included GOP White House contenders Ted Cruz and Ben Carson, to "avert the most serious effects of the environmental deterioration caused by human activity" – a reference to climate change. "I have no doubt that the United States – and this Congress – have an important role to play."
It was less direct than his speech at the White House on Wednesday, when he praised Barack Obama's clean air plan, but enough to prompt applause from Democrats and glum looks from some Republicans. Paul Gosar, a Republican congressman from Arizona, had boycotted Congress in protest at the pope's climate views.
Republicans led the applause when he made a reference to abortion, invoking the need to "protect and defend human life at every stage of its development", only to be flummoxed when he swiftly moved on to condemn the death penalty and excessive jail terms.
"A just and necessary punishment must never exclude the dimension of hope and the goal of rehabilitation." It was an implicit rebuke to the US criminal justice system, which is mired in controversy over executions and life sentences without parole.
Francis spoke forcefully against the arms trade – "drenched in blood" – but in a concession to capitalism's capital he lauded business as a "noble vocation", a kinder description than "dung of the devil", which he once used to describe unfettered capitalism.
Democrats who felt they had just won a powerful ally were brought down to earth with his challenge – albeit indirect – to same-sex marriage. "Fundamental relationships are being called into question, as is the very basis of marriage and the family. I can only reiterate the importance and, above all, the richness and the beauty of family life."
The speech, originally scheduled for 30 minutes, overran because of pauses for applause – about two dozen thunderous eruptions between hushed concentration on the speaker's every word – alien behaviour for a polarised, gridlocked Capitol.
Whether the pope will have any lasting impact on the US political agenda is unclear but his spell lingered after he left Congress, uniting both sides of the aisle in praise for the visitor.
Senator Bernie Sanders, the Vermont Democrat running for president, said the citing of Day, a progressive socialist, "tells you exactly where this man is coming from". Ted Cruz, the Texas Republican also seeking the White House, lauded Francis as "a powerful voice" for religious liberty and "against abortion".
It was not a ceasefire in the culture wars but the so-called "Francis effect", at least for one day, lured both sides out of the trenches.
The Guardian