Milosevic's fate awaiting Assad, says U.N. human rights investigator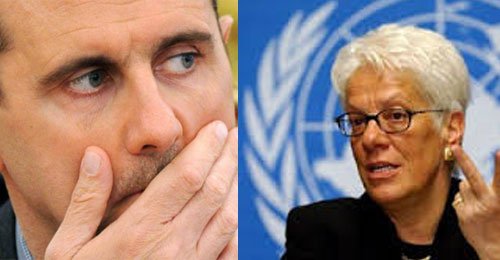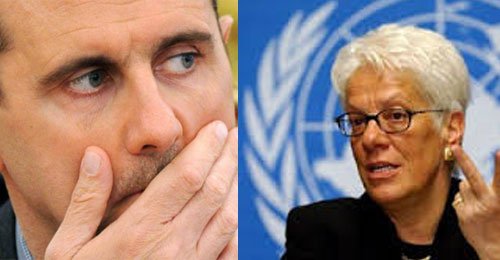 Justice will catch up with Syrian President Bashar al-Assad even if he remains in power under a negotiated end to Syria's war, U.N. human rights investigator Carla del Ponte said on Monday.
"Assad is the president, so let's deal with the institution of president. If we can achieve a ceasefire with the president, why not? But afterwards, justice will come," del Ponte told reporters.
"You remember in former Yugoslavia, Milosevic was president, and it was a peace negotiation at Dayton and they achieved an agreement? And Milosevic was still president, but justice could be done. Just an example from the past."
Del Ponte was chief prosecutor for the international court which put former Serbian president Slobodan Milosevic on trial in 2002, seven years after he signed a peace treaty to end the war in the former Yugoslavia. Milosevic died in his cell in 2006, before his trial was concluded.
This month European countries and the United States have moved away from demanding Assad's immediate ouster, saying instead that the timing of his exit could be part of a negotiated peace deal.
Asked if she thought justice would catch up with Assad, Del Ponte said: "Yes. It must be done."
Del Ponte is a member of the U.N. independent commission of inquiry that has been investigating human rights abuses in Syria for four years, and which has drawn up five confidential lists of names of suspects.
The immediate priority was to end the war, Del Ponte said, but she hoped an ad hoc tribunal like the courts set up to try crimes committed in former Yugoslavia and Rwanda could also be established for Syria.
The court would need to be established by the U.N. Security Council, which means it would run the risk of being blocked by China or Russia, two permanent members of the Security Council that have frequently vetoed U.N. resolutions critical of Assad.
Del Ponte said the thousands of Syrian refugees who had entered Europe would "accelerate the solution" because European states were confronted with a problem that they need to solve immediately.
"It is a great pressure because of the cost, the expense. Politically it's important. So I hope. Welcome refugees, welcome to Europe."
REUTERS/YAHOO
We at Ya Libnan encourage and welcome an open exchange of ideas on this story's topic, but we kindly ask all participants to follow our guidelines for respecting community standards. Personal attacks, inappropriate language, and off-topic comments may be removed, and comment privileges revoked .