Hezbollah willing to wait a 1000 years for a president of its choice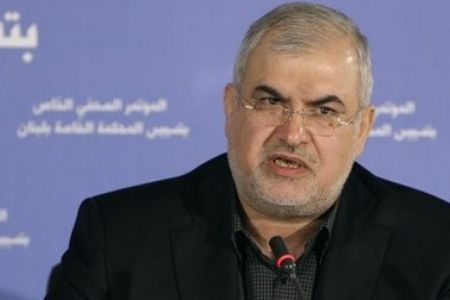 A Hezbollah official said Sunday that his party is willing to wait a thousand years for the election of a strong president, as efforts to resolve a nearly 4-month-old Cabinet crisis appeared to make headway. "Whoever wants to buy time to bring us a president who is not strong is wasting the country's time. We will wait for a thousand years in order to get a president of this type," said MP Mohammad Raad, the head of Hezbollah's parliamentary bloc.
"We want a president who is nationally chosen , we don't want names that are circulated in the corridors of the embassies of foreign countries. Simply and honestly, we want a president who enjoys the support of his community and has a sovereign mind and a patriotic spirit," Raad added, speaking at a ceremony in south Lebanon.
Hezbollah officially backs the candidacy of Free Patriotic Movement leader Michel Aoun, but according to analysts Aoun is far from being the party's choice.
His comments come after reports said the negotiations to resume Cabinet sessions and address the thorny issue of security appointments have made progress.
Discussions have intensified in recent hours with the aim of reaching a comprehensive political agreement to revive Cabinet's work and act on the promotion of officers, the reports say .
One proposal that could reportedly receive significant backing to restart the cabinet's work stipulates that no major item would be approved by the Cabinet if it was opposed by at least two Cabinet parties.
Political parties are reportedly considering ways to keep the window open for Brig. Gen. Shamel Roukoz, head of the Army's Commando Unit, to become Army commander in the future. Aoun has lobbied for the appointment of Roukoz, his son-in-law, to the Army's top post.
But his attempts hit a dead end last month when Defense Minister Samir Moqbel extended the term of current Army commander Gen. Jean Kahwagi. FPM and its allies have said that a revival of the Cabinet's work could only occur if this issue is addressed.
One way out of the crisis could be to promote Roukoz and other officers to the rank of major general. This will allow Roukoz, currently scheduled to retire next month, to serve for two more years. Media reports said Sunday that Moqbel recalled Army Intelligence chief Brig. Edmond Fadel from the reserves and extended his term for six months.
Prime Minister Tammam Salam said Saturday he will reconvene the Cabinet after he returns from the 70th session of the U.N. General Assembly in New York.
"The Cabinet is not paralyzed," Salam told reporters Saturday as he left Ain al-Tineh, following a meeting with Speaker Nabih Berri.
Salam will address the General Assembly on Sept. 26. His speech is expected to include an overview of Lebanon's current domestic situation. He will reportedly remain in New York until Sept. 30.
The prime minister said that "the ongoing coordination [with Berri] is one of the factors that is helping us to overcome crises. Our country is passing through difficulties that require relentless follow-up." Salam said the garbage crisis was a top priority, and that efforts to implement the plan put forward by Agriculture Minister Akram Chehayeb are progressing.