Clinton: U.S. Should Accept 65,000 Syrian Refugees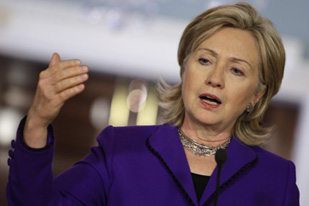 Democratic presidential candidate Hillary Clinton called for a sharp increase in the number of Syrian refugees the U.S. accepts, up to 65,000 from the current level of between 5,000 and 10,000.
The former secretary of state's appeal to raise the cap on Syrian refugees came asSecretary of State John Kerry announced in Berlin that the U.S. will increase the number of refugees it accepts to 100,000 in fiscal year 2017, up from 70,000 a year currently.
"I want the United States to lead the world," she said during an appearance on CBS's "Face the Nation" on Sunday. "The United States has to do more," she said. She said the U.S. needs to react more vigorously to the stream of millions of refugees from Syria pouring into Turkey, Lebanon and Jordan, and more recently into Europe.
"We're facing the worst refugee crisis since the end of World War II," she said. "I would like to see us move from what is a good start with 10,000, to 65,000, and begin immediately to put into place the mechanisms for vetting the people that we would take in, looking to really emphasize some of those who are most vulnerable," she said.
She added that the U.S. should be accepting "a lot of the persecuted religious minorities, including Christians, and some who have been brutalized, like the Yazidi women."
Estimates are that as many as four million Syrians have fled the violence, and that as many as half the citizens of Syria have fled their homes amid violence by the self-described Islamic state, and civil uprisings against the regime of Syrian President Bashar al-Assad.
Mrs. Clinton also called on the United Nations to convene a conference in which major nations would have to commit to taking in an allotted number of people fleeing Syria. She called on the U.N. secretary general to hold such a meeting and "literally get people to commit, putting money in, helping the front-line states, like Jordan and Turkey and Lebanon, who have absorbed a lot of refugees. "Everybody," she said, needs "to make a contribution."
Her call for a significant rise in the U.S. commitment to refugees comes as humanitarian groups, various U.S. senators and another presidential candidate, former Maryland Gov.Martin O'Malley, have called for such a sharp increase.
Earlier this month, Mr. O'Malley called on the U.S. to take in 65,000 Syrian refugees in response to the humanitarian crisis. "We are a nation of immigrants and refugees," he said, "and we cannot forget what it means to struggle and toil and yearn for a better life beyond the next horizon."
In her comments Sunday, Mrs. Clinton acknowledged that the administration's efforts to train and equip fighters to oppose the Assad regime haven't worked. "We have a failed program," she said. "A lot of what I worried about has happened." The Obama administration is considering dropping the program, amid disclosures by senior U.S. commanders that it has produced few fighters on the battlefield.
WSJ