Tsipras's Syriza leftist party set for victory in Greece election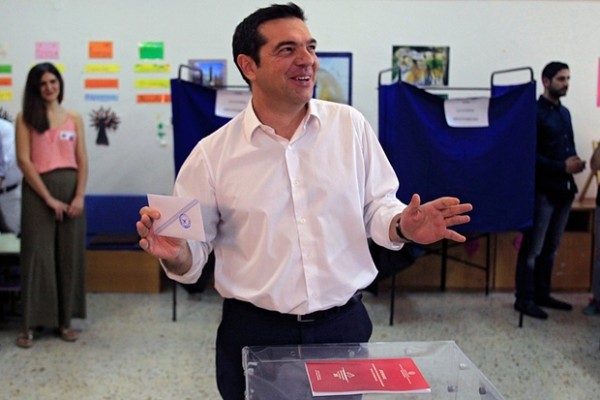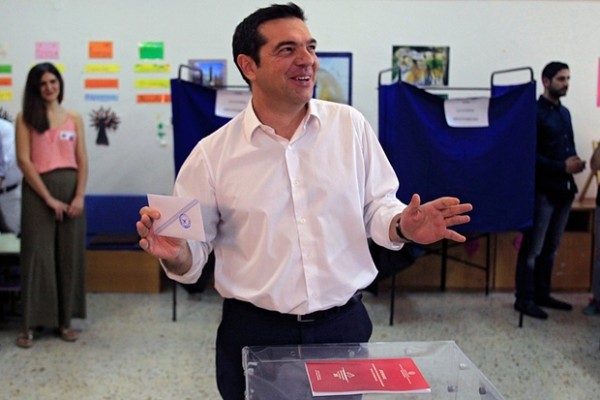 Syriza was set for victory in Greece's national election Sunday after exit polls gave Alexis Tsipras's hard-left party a clear lead over its rivals and the leader of the main opposition conservative party conceded defeat.
A combined poll from five television stations said Syriza would claim between 30 and 34 percent of the vote, with the conservative New Democracy party in a range of 28.5 percent to 32.5 percent.
Early vote counting tallied with that projection. With 25 percent of votes counted, Syriza was ahead on 35.3 percent, compared to 28.1 percent for New Democracy.
That share would give Syriza 144 seats in the 300-seat parliament and New Democracy 75, meaning Tsipras will still need to put together a coalition to form a government.
The neo-Nazi Golden Dawn party was on course to take third place, with 6.5 percent to 8 percent of the vote, the exit poll said.
New Democracy's leader Vangelis Meimarakis conceded defeat shortly after the exit poll figures were announced, offering his congratulations to Tsipras.
'A STRONGER MANDATE'
"It seems citizens did not change their mind," he told reporters. "I congratulate him and urge him to create the government which is needed and come to parliament."
Syriza supporters outside the party's main electoral center cheered and clapped, waving party flags when the exit poll results were announced.
A tired-looking Tsipras was hugged by party supporters as he arrived at Syriza headquarters, waving to the crowd gathered outside.
With coalition negotiations now set to begin, a senior Syriza source told Reuters the party hoped to form a government within three days.
"I want to repeat what Tsipras said, which is that a government will be formed within three days," said the source.
During the campaign, Meimarakis had said his party would join Syriza in a national unity government – but Tsipras has repeatedly ruled this out.
Greek people 'rewarding' Tsipras
After a tumultuous seven months in office, Tsipras resigned as PM in August and called snap elections, gambling that crisis-weary Greeks would give him a new mandate despite being forced to continue with austerity measures as part of a bailout deal brokered with the country's creditors.
Speaking to FRANCE 24, Syriza MEP Stelios Kouloglou said Syriza's lead in the exit poll suggested people were "rewarding" the efforts made by Tsipras during those negotiations.
"Of course he had to compromise in the end but he was sincere … people want to give him a second chance to govern the country," he said.
The election is being watched closely outside Greece because the winner will need to oversee the deep economic reforms required for the new 86-billion-euro loan from Greece's eurozone partners.
The new government will also have to arrange a recapitalisation of the country's banks, and the unwinding of capital controls imposed in June to prevent an implosion of the financial system.
Both Syriza and New Democracy have pledged to do that – but there are differences on the margins over such issues as labour reform.
Sunday's vote is the third national ballot this year, after the general election in January that brought Tsipras to power, as well as the referendum in July on whether to accept a new bailout deal and austerity plan from the European Union.
FRANCE 24 with REUTERS, AFP, AP