Trump fails to correct man who calls Obama Muslim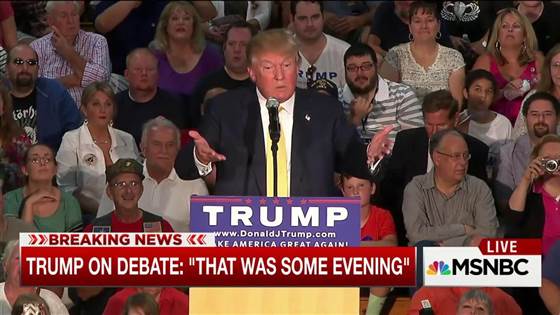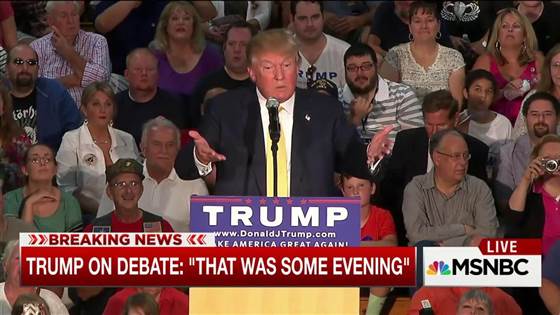 At his first public appearance since Wednesday's GOP primary debate, Republican front-runner Donald Trump on Thursday fielded a question from a supporter in New Hampshire about Muslim extremism. The issue? The questioner described Muslims as a "problem in this country," before adding, "you know our president is one" – and Trump just let it slide.
Before running for president, Trump demanded to see Obama's birth certificate to prove he was born in America. Obama, who was born in Hawaii, has long maintained that he is Christian.
Thursday's questioner went on to ask what Trump would do to curb the growth of extremist training camps. "We're going to be looking into that," the real estate mogul responded. Pressed by MSNBC to elaborate, Trump said, "Christians need support in this country. Their religious liberty is at stake. "
Trump, who has long criticized politicians for accepting campaign donations, vowed for what appeared to be the first time that, if elected, he would not accept a salary.
"So the first thing I'm going to do is if I get elected president is I'm accepting no salary," the billionaire declared. "That's not a big deal for me." Trump also quipped that he had only been a politician for the three months since announcing his presidential bid in June.
Trump's failure to correct the record about Obama's religion stands in contrast to former Republican presidential candidate Sen. John McCain, who was repeatedly booed by a crowd at a 2008 town hall event in Minnesota for contradicting a woman who described Obama as "an Arab."
Trump, who has been leading by double-digits in national polls, began Thursday's town hall in classic Trump form, citing numerous surveys from TIME, Newsmax, and Slate showing he won Wednesday night's Republican debate in California, and referencing well-attended events he's held around the country.
Trump boasted about earning Tom Brady's endorsement — "when you get Tom, you're getting a champ and he's a great champ" — and claimed that CNN had treated him "a little bit better" than Fox News, which hosted the first Republican debate.
Trump appeared to delight in a question about rival Carly Fiorina.
"She did a terrible job at Lucent. She did a terrible, terrible, terrible job at Hewlett-Packard. The stories that have been written about it are legendary," Trump said. "I don't see how she's going to be able to get over that hurdle."
For the most part, however, Trump stuck to his usual talking points, rattling off the debt the U.S. owes China and Japan, and vowing once again to be the "greatest jobs president God has ever created."
On immigration, Trump's primary solution remained the construction of a wall along America's border with Mexico. He dismissed criticism that such a barrier would cost $10 to $12 billion.
"You ask Israel if a wall works," he said before going on to reference the Great Wall of China as an example of success. Trump added that there would be "a nice opening" in the wall for those who wanted to enter the country legally – a refrain similar to one he sang at Wednesday's debate. The candidate, who also vowed to save Social Security and repeal Obamacare, smiled when an attendee described it as the "Trump wall."
Because his name would be associated with it, he insisted, "I've got to make it beautiful — big and powerful and beautiful."
MSNBC