Berri seeking a deal on presidency, electoral law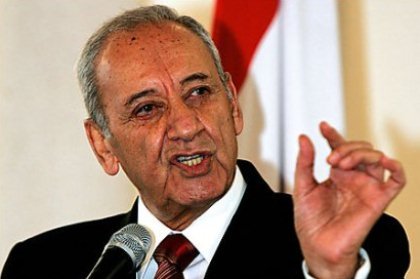 Lebanon Speaker Nabih Berri is reportedly seeking to reach a deal on the presidential crisis and an electoral draft-law and stressing that the national dialogue would be under threat if officials boycott it.
As Safir newspaper quoted informed sources as saying that Berri is exerting all efforts to strike a deal among the participants in the all party talks to agree on a presidential candidate and approve the electoral law in a bid to resolve the country's political crisis.
Berri reportedly told his visitors in remarks published in several dailies on Friday that the second round of all-party talks this week was better than the first.
He said his objective lies in "reaching a comprehensive solution that starts with the presidency and leads to all other issues."
"I have asked the conferees to bring answers to the next session on the proposals I have made," Berri told the visitors.
Asked about Change and Reform bloc leader MP Michel Aoun's boycott of the dialogue talks , the speaker said: "Aoun called me and informed me that he would not attend and that Foreign Minister Gebran Bassil will represent him."
But "he is supposed to participate in the next session because his continued absence would pave way for possible similar stances by other" conferees, he stressed.
More boycotts would "make the dialogue useless," the speaker warned.
Amal attack
Berri was asked about the assault by his supporters on hunger strikers in downtown Beirut during the national dialogue session that he chaired on Wednesday.
Berri who heads the Amal Movement said he did not know about the attack until he returned to his residence in Ain el-Tineh.
"I asked Amal Movement officials to interfere to calm things down and prevent a deterioration," Berri told his visitors.
Amal members on motorcycles attacked on Wednesday the gathering of protesters who had been staging a sit-in and a hunger strike outside the Environment Ministry for two weeks, uprooting their tents and throwing large stones at them.
The men accused the protesters of cursing Berri.
The speaker said the demonstrators have the right to criticize officials but it is wrong to use expletives against them.