Croatia overwhelmed by flood of migrants, EU calls summit
Croatia threatened to close its border with Serbia on Thursday as migrants fled from overwhelmed police, trekked through fields and tried to steal into Slovenia by train in a desperate march westwards that is sowing discord and recrimination in Europe.
The European Union's newest member said some 8,000 migrants had trudged across its border from Serbia in one day, driven from trying to enter through Hungary by a metal fence, tear gas and water cannon.
Amid desperate scenes at a railway station on Croatia's eastern frontier, where thousands were left stranded overnight under open skies, the European Union called an emergency summit next week to try to overcome disarray in the 28-nation bloc.
Croatia said it may have to use the army to stop thousands of migrants criss-crossing the Western Balkans in their quest for sanctuary in the wealthy 28-nation bloc. It shuttled some to reception centers near Zagreb, but many simply slipped the net of overwhelmed authorities and set off for the Slovenian border, just 30 kilometers (19 miles) from the Croatian capital.
There, Slovenian police halted a train carrying some 150 migrants at Dobova train station on Slovenia's side of the border and said they would be sent back. A Reuters TV crew said some tried to leave the train but were stopped by police. Some refused water in protest.
Slovenia later stopped all train traffic on the main line from Croatia through the border point and police stepped up checks in the area with helicopter and land patrols.
"We will return them (the migrants) to Croatia in the shortest time possible," Anton Stubljar, a local police official, told reporters.
The stalled train threatens to become the latest symbol of an EU deeply divided over how to handle the influx of hundreds of thousands of people mostly fleeing war and poverty in Syria, Iraq, Afghanistan and Pakistan.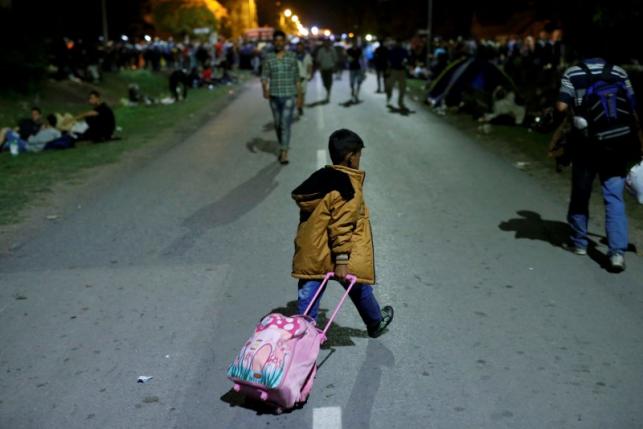 Croatian Interior Minister Ranko Ostojic said the country would close its border with Serbia if another 8,000 were to pour over the border in one day.
Macedonia tried a similar tactic last month ago, lobbing tear gas and stun grenades to keep back crowds, but was eventually overwhelmed. Hungary did it with a 3.5-metre (10-foot) fence built the length of its frontier with Serbia and a raft of immigration laws that rights groups say break international law.
Hungary's crackdown has shifted pressure onto Croatia, Slovenia and Romania.
At the eastern border town of Tovarnik, scuffles broke out as Croatian police tried to get women and children to board the buses bound for reception centers near Zagreb. Women screamed and children cried in desperate scenes.
An Iraqi from Baghdad who gave his name as Riad said he had been separated from his wife and child. "Only women and children are now allowed onto buses. My wife and child are gone and they (police) do not allow me to join them. My phone does not work."
Groups of migrants broke away from the police and set off on foot down railway lines and through fields.
"They want to take us to the camps, but we don't want that," said one man as he set off, without giving his name.
DEEP DIVISIONS
Croatia's president met the army chief of staff and asked the military to be ready, if necessary, to protect national borders from illegal migration, state news agency Hina reported.
Police also took up position in a suburb of the capital Zagreb around a hotel housing hundreds of migrants, some of them on balconies shouting "Freedom! Freedom!". Others threw rolls of toilet paper from the balconies and windows.
"Croatia will not be able to receive more people," Interior Minister Ranko Ostojic told reporters in Tovarnik while suggesting the country would not simply let migrants head north to Slovenia, which is part of the EU's Schengen zone of border-free travel.
Police in Hungary, which is also in Schengen, said about 500 migrants had been detained after crossing into the south of the country from Croatia. There is no fence on that part of the border at the moment but Budapest plans to build one.
European Council President Donald Tusk summoned EU leaders to a summit next Wednesday to discuss how to better manage external EU borders and help Turkey, through which many of the migrants are passing, as well as other states in the region that are housing Syrian refugees.
The bloc's interior ministers failed to agree on Monday on a mandatory quota system designed to spread the burden of this year's huge influx.
Ex-communist Central European states opposed to compulsory quotas for taking in refugees are pressing for more action to prevent migrants crossing the Greek and Italian borders who do not qualify for refugee status.
MORE MIGRANTS COMING
EU commissioner for migration Dimitris Avromopoulos rebuked Hungary over its tough actions, telling a joint news conference with Hungary's foreign and interior ministers that most of those arriving in Europe were Syrians "in need of our help".
"There is no wall you would not climb, no sea you would not cross if you are fleeing violence and terror," he said, describing barriers of the kind Hungary has erected as temporary solutions that only diverted migrants, increasing tensions.
Szijjarto hit back, saying that siding with rioting migrants, who pelted Hungarian police with rocks on Wednesday in clashes that injured 20 police, was encouraging more violence.
"It is bizarre and shocking how some members of international political life and the international press interpreted yesterday's events," he said.
In Brussels, Johannes Hahn, the EU's commissioner in charge of enlargement, urged member states to stay calm and fight the crisis together.
"The Western Balkans must not become a parking lot for refugees. That would be a grave geostrategic mistake. Cool heads on all sides are all needed now, not harsh rhetoric," he said.
Undeterred by the problems faces by migrants at the gates of Europe, more have been arriving at the Greek port of Piraeus from Lesbos island, a short boat ride from Turkey.
Others are waiting outside Europe to attempt the hazardous journey that has cost thousands of refugees their lives.
"It would be very dangerous, but if you make it, the reward is great, the whole world will open up for you," Yousef Hariri, a refugee from Deraa in Syria, said at a refugee camp in Jordan.
Police said the number of refugees arriving in Germany more than doubled on Wednesday to 7,266. The head of the German Office for Migration and Refugees quit for personal reasons after being criticized for slow processing of applications from a record number of asylum seekers.
A record 300,000 people have fled to Europe via Greece this year, according to the International Organisation of Migration. More than 116,000 more have arrived in Italy.
Hungarian Prime Minister Viktor Orban, who has blamed Berlin for the wave of migrants after German Chancellor Angela Merkel rolled out the welcome mat for Syrian refugees, said Muslims would end up outnumbering Christians in Europe if the policy continued.
"I am speaking about culture and the everyday principles of life, such as sexual habits, freedom of expression, equality between men and woman and all those kind of values which I call Christianity," Orban said in an interview published in several European newspapers including The Times.
The UN human rights chief, Zeid Ra'ad al Hussein, denounced "callous, xenophobic and anti-Muslim views that appear to lie at the heart of current Hungarian government policy".
REUTERS