Lebanon Interior Minister dismisses calls for his resignation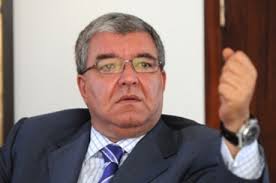 Lebanon Interior Minister Nouhad al-Mashnouq dismissed calls for his resignation calling such a move "pointless" and pledging to protect "peaceful" demonstrators during an anti-government march planned for Sunday.
Al-Mashnouq expressed willingness to resign in "defense of freedom of expression and peaceful assembly, and wondered if his resignation would guarantee solving the country's problem."
"But I don't think that there is a need to do so," al-Mashnouq told As Safir daily on Friday, a day after the so-called follow-up committee of the popular protest movement called for the resignation of the interior and environment ministers over alleged police violence and the failure to resolve the country's trash crisis.
The committee also said that it will organize a march on Sunday from Bourj Hammoud to central Beirut's al-Nejmeh Square.
It called for the release of all those arrested in connection with the August 22, 23 and 29 demonstrations held against the political class that has dominated the country and undermined its growth since the civil war ended in 1990.
Al-Mashnouq said that it is the responsibility of the security forces to protect the demonstrators who are peacefully expressing their viewpoints.
"It is their legal duty to do so, but it is illegal to damage state and private property," the minister told As Safir.
Al-Mashnouq slammed the demonstrators for asking the police to protect them and at the same time resorting to their assault and cursing them.
"Some of the things being said to the security forces are shameful," he said.
On Wednesday, police beat back protesters with clubs and sticks after they were instigated by remarks made by them, and arrested dozens of people in downtown Beirut.
The small group of activists had gathered near the parliament building, where a second session of national dialogue that was chaired by Speaker Nabih Berri was taking place .
Amal members on motorcycles attacked on Wednesday the protesters uprooted their tents and threw large stones at them.
Berri who heads up the Amal Movement said he did not know about the attack until he returned to his residence in Ain el-Tineh.