Aoun skips dialogue session but FPM was there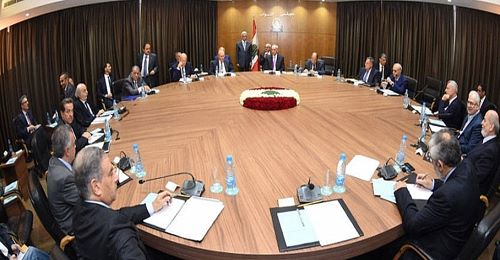 Lebanon's rival leaders met for the second round of all party talks on Wednesday as scores of civil society activists clashed with security forces during a protest aimed at shaming the officials for failing to resolve crucial issues.
Change and Reform bloc leader General Michel Aoun did not attend today's session but FPM was represented by Aoun's son-in-law Gibran Bassel along with MP Ibrahim Kanaan.
As in the previous session the all-party talks were chaired by Speaker Nabih Berri at the parliament as "You Stink" movement activists staged a protest to coincide with the dialogue in downtown Beirut.
They clashed with baton-wielding anti-riot police after trying to push the metal barriers that security forces have erected to close off Nejmeh Square where the parliament is located. Several arrests were made after the encounter.
Video footage showed police dragging at least two protesters on the ground while violently beating them both.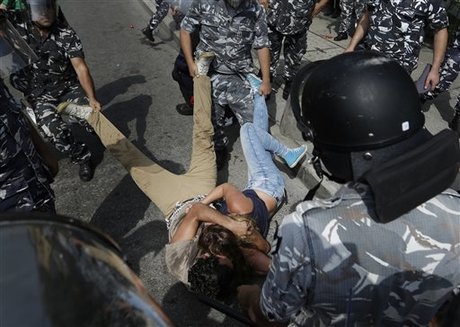 "You Stink" said around 25 people were arrested.
The protesters accused the Internal Security Forces of using force and assaulting them, but police stressed said it respects the people's freedom of expression and peaceful demonstration rights.
A similar but peaceful demonstration was held in the same area by the relatives of the servicemen taken hostage by jihadists in August last year when they overran the northeastern border town of Arsal.
A family member shouted: "Our cause is more important than all other issues."
"We want our cause to be discussed at the dialogue table," said another. "Let them stop lying to us that our sons will be released."
PSP leader MP Walid Jumblatt who abruptly left the dialogue session told VOL (93.3) that positive atmospheres prevailed during the dialogue session and that he had to leave for personal reasons.
Berri said in his opening statement on Wednesday that only dialogue would lead to salvation.
The national dialogue has on its agenda the presidential vacuum, the resumption of the work of parliament and the cabinet, a new electoral draft-law, legislation allowing Lebanese expats to obtain the nationality, administrative decentralization and ways to support the Lebanese Army and the Internal Security Forces.
The country has been without a president for over a year, and lawmakers have illegally extended their term twice amid disputes over the election law.
After meeting for three and a half hours last week, the leaders of various parliamentary blocs issued a brief statement, saying the talks would resume in a week.
Future Movement bloc leader Siniora said prior to the meeting : Let us give the national dialogue all the chances before calling it off."