Jumblatt says after honoring US envoy, we need a new Doha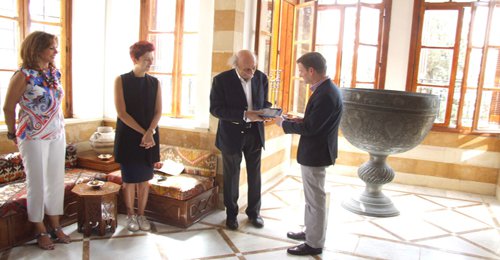 Progressive socialist Party leader MP Walid Jumblatt, said on Saturday we are in need of a new Doha or an island in the Persian Gulf or the Indian Ocean to address the presidential election and the electoral law issues, NNA reported.
The Doha accord in 2008 ended the presidential vacuum and resulted in the election of Michel Suleiman as the Lebanese president . Suleiman's term ended in May 2014 and Lebanon remains without a president
Jumblatt's remarks came during a ceremony held at the Mukhtara palace in honor of the departing US Ambassador to Lebanon, David Hale, at the end of his term of office in Lebanon.
The farewell ceremony was attended by scores of religious, political, diplomatic, social, industrial, military and syndical dignitaries, notably former Prime Minister Najib Mikati, Education Minister Elias Bou Saab representing Change and Reform Bloc Head Michel Aoun, Culture Minister Rony Araiji representing Marada Movement Head MP Suleiman Franjieh, and Army Commander General Jean Kahwaji.
Jumbaltt hailed the relentless efforts undertaken by the outgoing Ambassador in backing Lebanon's stability and its institutions, as well as encouraging directly or indirectly the holding of national dialogue and diffusion of tension in a number of dossiers.
"Due to your efforts, the Lebanese army became the fourth Army around the world receiving military aid from the United States," Jumblatt said in his speech, thanking the United States for  also providing assistance to the displaced Syrians, who are currently making up a quarter of Lebanon's population.
Ambassador Hale, for his part, lauded Jumblatt as a "fundamental force working for Lebanon's stability and civil peace especially at these difficult times, commending his leadership and commitment to national coexistence.
Hale also described the situation in Lebanon at the current stage as "difficult and critical," hoping that the work of government would be activated, a new president be elected and new parliamentary elections be taking place. "Such matters are very essential," he said.