Lebanese Forces chief to skip dialogue talks, says they are "waste of time "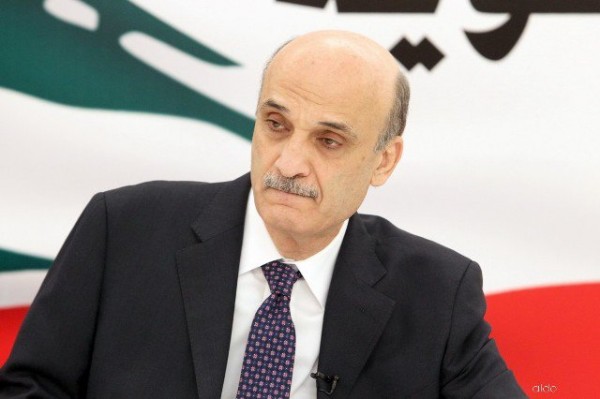 Lebanese Forces leader and presidential candidate Samir Geagea announced on Saturday that the his party will not participate in the dialogue talks that Speaker Nabih Berri has called for to tackle Lebanon's controversial issues, describing it as a "waste of time."
"The dialogue will be similar to its predecessors. Consequently, it is a waste of time," Geagea said in reference to previous all party-talks held under Berri and former President Michel Suleiman.
"That's why we will not attend," said Geagea in a speech he gave following a yearly mass that he organizes in commemoration of the LF martyrs.
"One thing is required now – heading to parliament and electing a president," he stressed.
Geagea also stressed that holding the dialogue talks "would divert attention from the single major step of … electing a president."
His announcement came a day after Berri expressed hope that Geagea would attend the talks.
The rival parties are expected to discuss on Sept. 9 ways to end the vacuum at Baabda Palace and other pressing issues.
But Geagea said it was an "impossible assumption" that the conferees could agree on a presidential candidate.
"The stance of each side from the presidential elections is known. How could we reach a different result?" he asked.
"The dialogue will disregard our major problems, among them the waste crisis and the presidential elections," he said.
Lebanon has been without a president since May 2014, when Michel Suleiman's term ended
Geagea, who does not have representatives in the cabinet, slammed the government for failing to reach major decisions.
He said that 25 years after the end of the civil war, Lebanon is still suffering from water shortage, power cuts, bad infrastructure, bad services and now a garbage crisis.
He said the only thing that the government's members agree on is the allocation of portfolios and shares amongst themselves .
"When all the parties want to unite in a single cabinet and at a time when many politicians are corrupt, everyone would want to keep pace with the other through corruption," Geagea stated.
The LF chief agreed with protesters that the government should resign. "But on condition to form a new cabinet, that is effective and not corrupt."
The election of a president is the only way to change the government with a better one, Geagea stressed.
Unfortunately for Lebanon the Iranian backed Hezbollah reneged on the deals reached during the dialogue talks that were chaired by Berri and Suleiman .
In 2006 it initiated a war with Israel when it kidnapped 2 Israeli soldiers despite a deal that war and peace decisions will be jointly decided by all concerned parties.
And in 20013 Hezbollah decided to fight alongside the forces of the Syrian regime against the mostly Sunni rebels despite the Baabda declaration which called for distancing Lebanon from events in Syria.