After 28 election sessions Lebanon is still without a president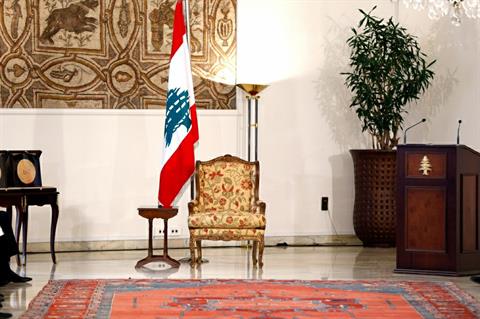 The Lebanese parliament failed again today and for the 28th time in a row to elect a president to replace Michel Suleiman whose term ended on May 25 last year
As in the past sessions the parliament was unable to reach a quorum because the Iranian backed Hezbollah militant group and its ally MP Michel Aoun's Change and Reform bloc MPs boycotted the sessions.
Speaker Nabih Berri a key ally of Hezbollah postponed the election to September 30 , 2015 .
Yesterday Lebanese Forces leader Samir Geagea blamed Iran and its proxy Hezbollah for the for the presidential vacuum.
Today's parliament session coincided with the visit to Lebanon by Deputy Foreign Minister of Iran, Hussein Amir Abdollahian who declared Tuesday after meeting with Foreign Minster Gebran Bassil that Iran will play a constructive role in the resolution of political issues in the region.
Abdollahian said the Islamic Republic strongly supports the continuation of the political process in Lebanon, a way to lead to the election of a President of the Republic.
Abdollahian reiterated his country's support to Syria in its fight against terrorism, noting however that the use of force and violence would not result resolving the crises in the region.
The last session in August coincided with the visit to Lebanon by Iranian Foreign Minister Mohammad Javad Zarif .
Zarif claimed at the end of his 2 day visit that his country does not meddle in the internal Lebanese affairs.
"We do not meddle in internal Lebanese affairs and neither should other countries, " he said during the second day of his trip to Beirut.
Many experts believe Iran does not want a president in Lebanon for the time being and is working behind the scenes to abolish the Taif accord which calls for equal power sharing between the Muslims and the Christians